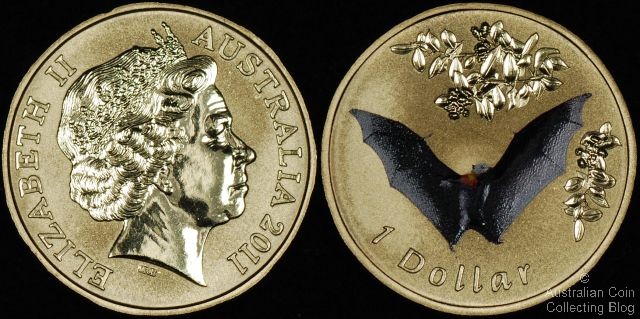 2011 Grey-headed Flying Fox
The second coin of the last release in the Air series dollars from the Royal Australian Mint brings the Grey-headed Flying Fox to life in colour. This totals 6 coins released in the Air Series after the success of the coloured (06-07) ocean and (08-09) land series in previous years. Pad printed coloured designs all by Mint designer Caitlin Goodall leap from the frosted uncirculated coin housed in a protective blister snapped into an informative card. The obverse featuring the standard effigy of Queen Elizabeth II by Ian Rank-Broadley.
This 25mm aluminium bronze one dollar depicts the large, furry, fox-looking bat in full flight. These bats are Australia's largest feeding on fruit trees, flowers, nectar -they particularly like the lilly pilly fruit seen in the design. They can weigh up to 1 kilogram and can have a wingspan over 1 metre.
Issued at $14.95, find the mintage in the 2011 mintages table. See the other issues in the Air Series.
Posted by harrisk at September 29, 2011 2:32 PM
Subscribe to our Newsletter