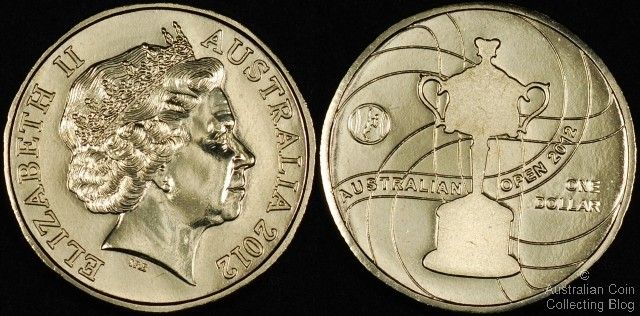 2012 Australian Open Women's Trophy $1
The Australian Open Tennis is one of four grand slam events which includes Wimbledon, the French Open and the US open. It's the only grand slam held in the southern hemisphere. 2012 marks the 100th Australian Tournament played and in celebration of this the Royal Australian Mint has released two legal tender one dollar coins each depicting the winners trophies. The first is of the Men's Trophy and this coin of the Women's Trophy.
The reverse design is by the RAM's Wojciech Pietranik and features a silhouette of the winners trophy, the Daphne Akhurst Cup outlined by swirls and a small tennis ball with a player inside "Australian Open 2012 One Dollar". The obverse is by Ian Rank-Broadley and is the standard QEII effigy used on all Australian legal tender issued in 2012.
This one dollar coin is issued as NCLT or non-circulating legal tender and is not meant for circulation but does bear all the features of a circulating coin. It is 25mm in diameter and weigns 9 grams and is manufactured on an aluminium bronze planchet. It has interrupted edge milling.
Released in a capsule which snaps into a foldable collector card for $15 the mintage can be found in the 2012 One Dollar Issues and Mintages Table.
Posted by harrisk at January 24, 2012 10:56 AM
Subscribe to our Newsletter