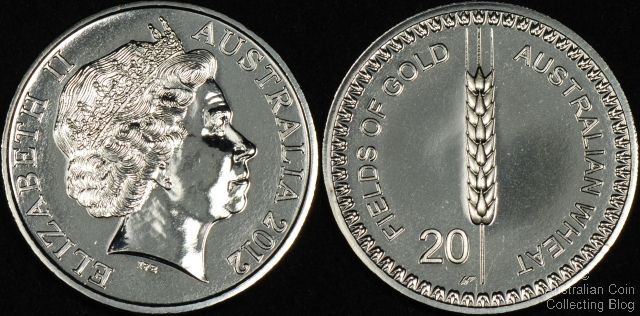 2012 Fields of Gold Australian Wheat 20c
Released in tandem with the Fields of Gold Australian Wheat $1 this 20c simply depicts an ear of wheat. The single stalk a little different to what we know as the wheat sheaf threepence which has been reissued this year as another one dollar coin. All these issues give recognition to the Australian wheat industry in 2012.
The coin shown above is 20c denomination and was designed by Wojciech Pietranik. The legends read "Fields of Gold Australian Wheat" which is surrounded by rim beads of tiny wheat heads. A very simple design with lots of bare open fields on the coin. Wojciech's initials WP can be seen below the 20 to the left of the stalk.
The obverse or the heads side of the coin depicts Queen Elizabeth II portrayed by Ian Rank-Broadley. His initials can be seen at the base of the portrait. The 20c is 28.52mm in diameter and weighs 11.3 grams. It is made of cupro-nickel and has continuous edge milling. It has been released in uncirculated and proof quality in special 2 coin sets, this is the only way to obtain these coins.

Posted by harrisk at January 24, 2012 2:11 PM
Subscribe to our Newsletter