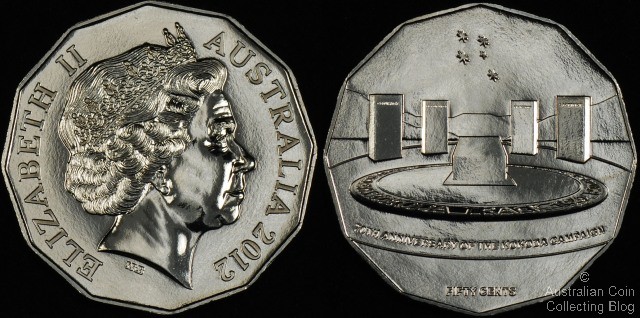 2012 Uncirculated Kokoda 50c
The 70th anniversary of the Kokoda campaign is marked by this special issue 50c released by the Royal Australian Mint. The Kokoda trail is a 96km single file trail overland through Papua New Guinea. It was the scene of many violent conflicts throughout 1942 between Australian armed forces and the Japanese army. The Japanese sought to capture Port Moresby as part of the Pacific War in World War II which saw Australia's security directly threatened. This was in addition to the bombing of Australia's shores by Japanese forces.
In the Kokoda conflict the Japanese sought to advance south through the Owen Stanley Range to seize Port Moresby in an attempt to isolate Australia from the USA. During one particular battle along the Kokoda, Private Bruce Kingsbury earned a Victoria Cross during the Battle of Isurava. He courageously charged the Japanese, buying his comrades time to reinforce their positions allowing them to resist further Japanese attacks. For his ultimate personal sacrifice he was posthumously awarded the Victoria Cross Medal, the highest award for bravery given to British and Commonwealth soldiers.
The Isurava memorial is the design depicted on this commemorative 50c and was the site of some of the most intense fighting in the Kokoda campaign and is also adjacent to the site where Private Kingsbury performed his act of valour. This memorial was constructed in 2002. It features four Australian black granite pillars with the inscriptions courage, endurance, mateship and sacrifice. An inscription at the site reads
"The four sentinel stones represent the resolute commitment and sacrifice of those Australian soldiers who stood firm to slow and to finally halt the advance of the Japanese forces across Papua New Guinea in 1942."
As well as showing the Isurava Memorial the reverse of the coin also shows the the Owen Stanley Range in the background and the stars of the Southern Cross. The design was sculpted by Wojciech Pietranik. The coin is the standard dodecagonal cupro-nickel 50c shape and composition but has been issued as a collector item and is not intended for circulation. It has been released in a credit card sized collector card for $9. It is struck in uncirculated quality and is housed in a capsule. The obverse is the standard portrait of Queen Elizabeth II by Ian Rank-Broadley.

Posted by harrisk at May 24, 2012 1:11 PM
Subscribe to our Newsletter