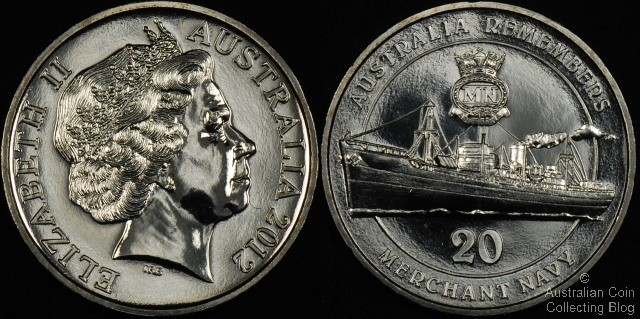 2012 Merchant Navy 20c
The Australia Remembers series of NCLT 20c continues with a fourth release coin in 2012. Previously in this series we've seen the 2011 War Historians 20c, 2010 Lost Soldiers of Fromelles 20c, PNC and 2009 Service Nurses 20c. This series recognises and celebrates those people who made history beyond the battlefields.
The 2012 twenty cent remembers and pays tribute to the Merchant mariners, the lifeline for transporting essential supplies through times of war and peace. During WWII the Merchant Navy suffered a higher rate of casualties than the armed forces and it's this courage and commitment we honour with memorials, service medals and now this 20c coin.
The image depicted on the reverse of the coin sculpted by the Royal Australian Mints' Wojciech Pietranik is inspired by the vessel SS River Loddon, Australia's first merchant ship.
The obverse of the coin depicts the standard Ian Rank-Broadley image of HM Queen Elizabeth II. This 20c is released as non-circulating legal tender (NCLT) and is housed in a capsule in an informative card. The card design features red Flanders Poppies, an important symbol of remembrance
Issued for $8 this uncirculated 11.3g 28.52mm cupro nickel 20c will not be found in your change.
Posted by harrisk at July 18, 2012 2:44 PM
Subscribe to our Newsletter