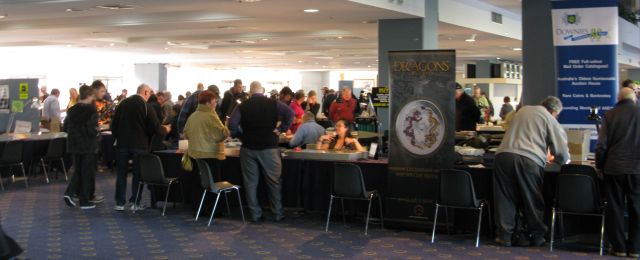 Melbourne ANDA Show at it's busiest. Can you spot the blog team? Photo courtesy SJS
The 7th and 8th of July 2012 saw the annual ANDA Coin and Banknote Show being held at the Caulfield Racecourse in Melbourne. We were lucky enough to attend the show on the first day and had a busy time picking through the stock of all of the dealers in attendance. Dealers present included Klaus Ford Numismatics, Universal Coin Co, JPW Coins, Waterman's Coins and Banknotes, Downies, and VP Coins. It was great to see a new face at the show, Coin Trends, who have previously been known for their mail auctions had a table at the show stocked up with many interesting world coins.
Of course, both the Royal Australian Mint and the Perth Mint were there with their usual range of NCLT and special show releases. The primary interest for those at the RAM stand were M counterstamp wheat sheaf dollars being stamped at the portable press which was operated by Guy the RAM guy and their Melbourne Town Hall $5 coin. The Perth Mint had a special show release 1oz silver year of the dragon coloured coin available at a special show price for those who were interested.
We lined up prior to the show in the cold Melbourne morning waiting to buy tickets from the happy members of the Numismatic Association of Victoria. It was great to see the club members getting around the show during the day doing their best to rustle up new members. They also had some interesting displays right by the entrance showing off their collecting interests.
Sometimes a coin show is the only time you'll see some real numismatic rarities and it's great to view these items even if they are beyond your purchasing reach. Items of interest at this show included a $1 struck on a 10c blank, a 10c struck on a copper 2c blank, a Yarralumla PNC, a PCGS MS64 Adelaide Pound and a 5c brockage.
PCGS slabbed coins are also becoming increasingly popular here in Australia and the show continued to show the strength of the third party graded market with IAG, Monetarium (Adelaide), Universal Coin Co and Sterling & Currency all having the majority of their stock third party graded and most dealers with at least one coin in their stocks independently graded.
It seemed quieter than usual for a Melbourne show but we had a great time catching up with coin friends and dealer smiles.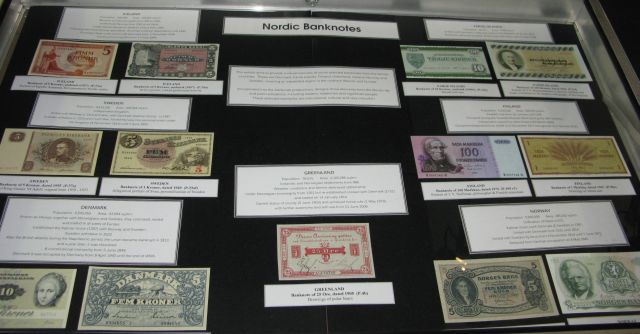 Melbourne Coin Club Member Displays. Photo courtesy SJS
Posted by mnemtsas at July 7, 2012 8:46 PM
Subscribe to our Newsletter