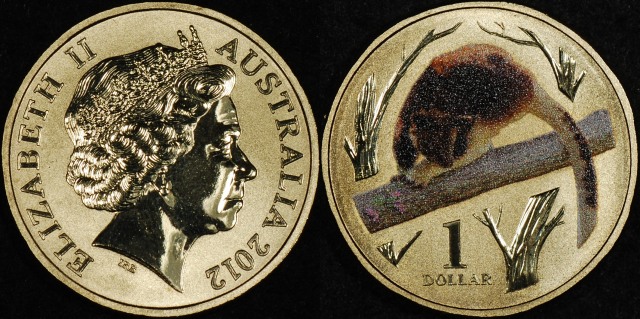 2012 Goodfellow's Tree-Kangaroo $1
The Goodfellow's Tree-Kangaroo dollar is released by the Royal Australian Mint as part of the Animals of the Zoo series. The series features 6 coloured coins all depicting rare and endangered animals residing at the zoo, this coin is in the third release. The series celebrates the 150th anniversary of the Melbourne Zoo, Australia's oldest zoo which is home to 3 of these endangered macropods. Species of the Goodfellow's Tree-Kangaroo live in mountainous rainforest areas of Papua New Guinea, Irian Jaya in Indonesia and Australia where their primary diet is the leaves of the Maple Silkwood tree. These endangered tree-kangaroos have woolly reddish brown fur with with golden yellow limbs, a long mottled golden tail and two golden yellow dorsal stripes.
The Animals of the Zoo series follows on from the very popular Ocean, Land and Air series released by the Mint in previous years. These 25mm dollar coins have a frosted uncirculated finish, this one with a sculpted Goodfellow's Tree-Kangaroo design which is then overlaid with colour in the pad-printing process. The design is by the RAM's Aaron Baggio. This 2012 dated one dollar weighs 9 grams and is minted on an aluminium bronze burnished blank planchet. The obverse features the standard Ian Rank-Broadley portrait of Queen Elizabeth II.
Issued in a capsule snapped into a collector card for $15, for up to date mintage figures see the 2012 One Dollar Issues and Mintages Table.
Posted by harrisk at July 18, 2012 11:17 AM
Subscribe to our Newsletter