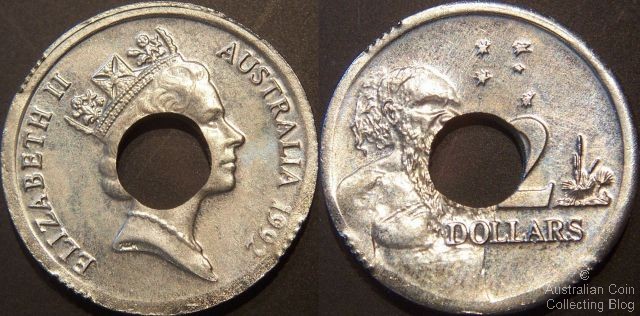 2 Dollar struck on Wrong Planchet
There's a few things we know about the above imaged coin and there's a few things we don't. It's a well struck 1992 Australian $2 coin with the Maklouf effigy of Queen Elizabeth II. It's been struck on either a foreign planchet or maybe not even a coin blank at all but a washer!
Ordinarily a $2 coin weighs 6.6g but this coin is significantly underweight at 3.8g. Now quite obviously this is primarily due to the hole in the middle of the coin! It is a metal with a ferrous base because the coin is magnetic which rules out any Australian coins of the cupro-nickel type so it's not struck on an Aussie coin planchet. This spectacular $2 error was struck on either a washer or a holed planchet intended for a coin of another country. Either way a contamination occurred in the hopper of blanks as they were fed into the press. We've spent some time searching but haven't managed to determine a country or denomination that fits the characteristics of this coin so for now it remains a mystery!
We've discussed wrong planchet errors before with an article on an Australian $1 on bi-metal planchet, a 1944s shilling on US planchet and 2c on 1c planchet. Our latest article published in the September 2012 issue of Australasian Coin and Banknote Magazine (CAB) about another $2 struck on a foreign planchet is also well worth a read.
Posted by harrisk at September 2, 2012 12:52 PM
Subscribe to our Newsletter