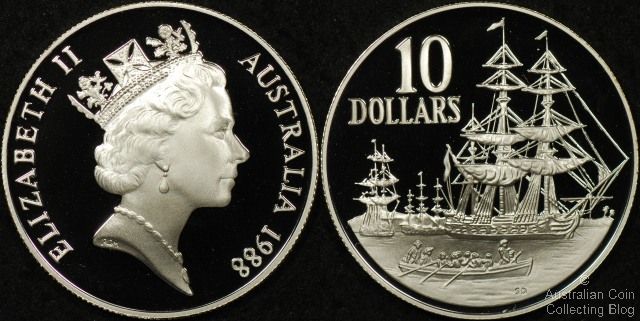 1988 10 Dollar First Fleet Bicentenary Silver Proof
The bicentenary of the landing of the First Fleet was well commemorated in 1988. Many coins and medallions were issued for Australia's 200 years. The 1988 Australia 10 Dollar Bicentenary coin was produced by the Royal Australian Mint and is a very collectible coin not for it's numismatic value but for it's bullion silver content! These $10 silver coins simply don't appeal to many collectors for their value as a collectible coin so for the most part are traded as silver bullion. They have a face value of $10 but their silver value exceeds this and changes every day with the bullion silver price and the exchange rate.
The 1988 Australia $10 Bicentenary coin is similar to the State Series coins and the 10 dollar Bird Series. They were minted in both uncirculated and proof quality of 92.5% silver and 7.5% copper (sterling silver). They all have edge reeding, are 34mm in diameter and weigh 20 grams each.
You can work out todays value of this and other silver coins using our Australian Silver Value calculator.
Or through a little bit of internet coding magic the current value of a 1988 Bicentenary $10 silver coin is include_once('silver-coin-values/inc/silver_value.php'); $value=$silver_price*0.5948; $string='AU$'.number_format($value*$aud,2).' (US$'.number_format($value,2).')'; echo $string; ?>. This value is updated every hour or so using the current silver price and exchange rates from Kitco.
Posted by harrisk at October 16, 2012 12:29 PM
Subscribe to our Newsletter