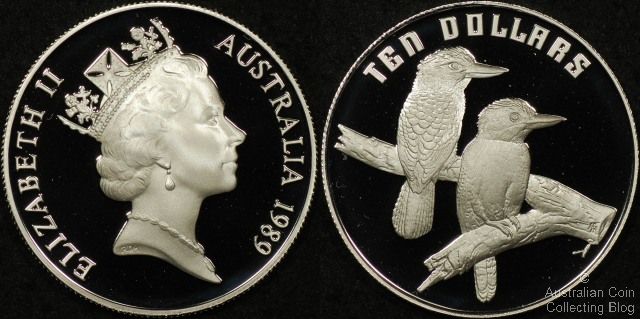 1989 10 Dollar Kookaburra Silver Proof
The ten dollar Birds of Australia series silver coins were issued by the Royal Australian Mint from 1989 to 1994. They depict the Kookaburra, White Cockatoo, Jabiru, Penguin, Cockatoo and Wedge Tailed Eagle.
They were issued as standard proofs, piedfort proofs and a limited piedfort coin fair issue. The piedforts are twice as thick weighing twice as much as the standard proofs.
Whilst collectible in their own right they are often traded for their silver bullion content and it's this silver content that often determines the "going rate" of the coins being sold rather than the catalogue value. Thus a knowledge of the bullion trading price is important if you're going to trade in these coins.
They were minted in 92.5% silver and 7.5% copper (sterling silver). They all have edge reeding, are 34.1mm in diameter and weigh 20 grams each. Remember the Piedforts are twice this at 40 grams but the same diameter.
You can work out todays value of these and other silver coins using our Australian Silver Value calculator.
Or through a little bit of internet coding magic today's value of a Birds of Australia standard $10 silver coin is include_once('silver-coin-values/inc/silver_value.php'); $value=$silver_price*0.5948; $string='AU$'.number_format($value*$aud,2).' (US$'.number_format($value,2).')'; echo $string; ?>. This value is updated every hour or so using the current silver price and exchange rates from Kitco.
Posted by harrisk at October 21, 2012 12:56 PM
Subscribe to our Newsletter