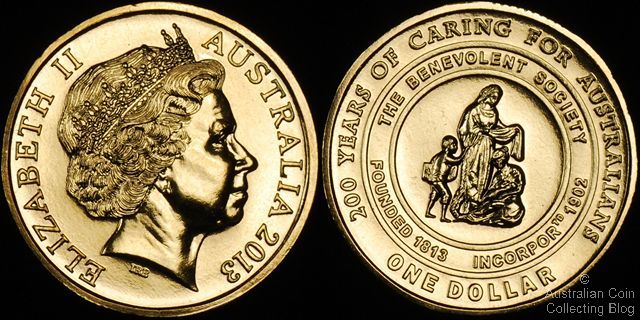 200 Years of Caring for Australians, The Benevolent Society 1 Dollar
To be honest the issuance of this coin has opened my eyes. A society that I'd not heard much about, Australia's first charity the Benevolent Society celebrates it's 200th year in 2013. The role this society has played in Australia being what it is today is paramount. It's been at the forefront of changes in attitudes and practices helping those most in need.
Originally named the 'NSW Society for Promoting Christian Knowledge and Benevolence', it was founded by Edward Smith Hall on 8 May 1813. Mr Smith was involved in forming Australia's first bank, the Bank of NSW (now known as Westpac) and was its first cashier and secretary. The Benevolent Society's purpose was to 'relieve the poor, the distressed, the aged, and the infirm.' Today, among a myriad of ways the society helps the community the society helps families and parents and offers foster carer support. They help the aged live confidently and independently into their retiring years managing those health challenges we'll all face.
One of the main purposes of the Royal Australian Mint is to promote historical events through the striking of special commemorative coins. This 1 dollar coin features an interpretation of the Society's original logo on the reverse with the obverse depicting the Ian Rank-Broadley portrait of Queen Elizabeth II. It is the standard 25 millimetre diameter and weighs 9 grams. It's struck in aluminium bronze as a regular dollar but won't be found in change. It's been issued in a collector card as non-circulating legal tender.
"The Royal Australian Mint has a proud tradition of recognising the different attributes that have helped make our society what it is today, and The Benevolent Society is an important part of that social tapestry," said Royal Australian Mint CEO Mr Ross MacDiarmid.
Posted by harrisk at May 6, 2013 3:05 PM
Subscribe to our Newsletter