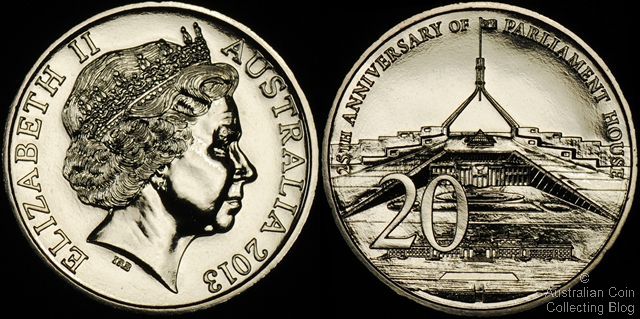 Australia 2013 25th Anniversary of Parliament House 20c
Not content with bombarding the coin collecting community with commemorative 50c and dollar coins the Royal Australian Mint has decided it's onto a good thing and is really ramping up the production of non circulating legal tender 20c coins. In the image above you can see the latest of these, the 2013 Parliament House 20c designed to celebrate the 25th anniversary of the opening of the new parliament house which was opened for the bicentenary of Australia in 1988. While the cynical side of me would prefer a coin celebrating the burning down of parliament house (while most of our politicians were in it) there's no denying the reverse design of the coin is both intricate and spectacular.
The obverse of the coin has the Ian Rank-Broadley portrait of the Queen that we're all used to. The excellent reverse was designed by Tony Dean (designer of the 2007 Lifesaver Dollar) who we interviewed a few years ago in his studio. The reverse depicts the current Australian Parliament House which was built into Capital Hill in Canberra, ACT and opened in 1988. At the time, the opening of the new house for our parliament was a keystone of the year long bicentennial celebrations of Australia. In the foreground of the design is a depiction of the Old Parliament House building. The standard size and composition 20 cent wont be found in your change (unless someone spends one by accident) and was released in an information card by the RAM for $8. It's also available in an Australia Post PNC.
This isn't the first time Australia's parliament has appeared on a coin. The first, of course, was the old Parliament House that appeared on our first commemorative coin, the 1927 Parliament Florin. This is a beautiful and collectable coin. The second time Parliament House appeared on a coin was in 1988 on an alumunium bronze $5 collector coin. That coin is ugly, unloved and best taken to the bank and cashed in for $5 you can spend on something more useful. Let's hope this 2013 Parliament House 20 cent proves to be more successful and loved by coin collectors.
Posted by mnemtsas at May 4, 2013 5:41 PM
Subscribe to our Newsletter