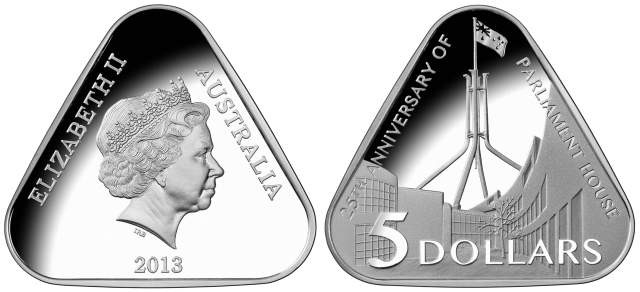 Australia 2013 25th Anniversary of Parliament House $5 Triangular Coin (image courtesy www.ramint.gov.au)
Just released by Australia's circulating coin producer, the Royal Australian Mint, this is the very first triangular shaped Australian coin. Struck in proof quality the 2013 $5 Parliament House coin commemorates 25 years since New Parliament House was opened in Canberra. At that time another $5 coin was issued to mark the opening back in 1988. That coin was a regular, round coin made from aluminium bronze that was available in both circulation and proof standards.
Demonstrating the Mint's own innovations in coin design the reverse of this new triangular coin depicts a view of Parliament House from inside one of the many courtyards it contains. The image features that major architectural achievement, the distinctive triangular flag mast that is visible from so much of Canberra. The obverse of the coin shows the Ian Rank-Broadley portrait of Queen Elizabeth II who was in Canberra to open Parliament House on the 9th of May, 1988.
Released on the 9th of May 2013, which was the 25th birthday of Parliament House, this (99.9%) fine silver proof 2013 5 dollar Parliament House coin was issued for $85 with a capped mintage of 10,000 coins. For the more budget conscious collector the RAM has also released a 20c coin celebrating the same anniversary. The 2013 Parliament House 20c is available for the more budget minded collector for just $8.
Posted by harrisk at May 10, 2013 7:33 AM
Subscribe to our Newsletter