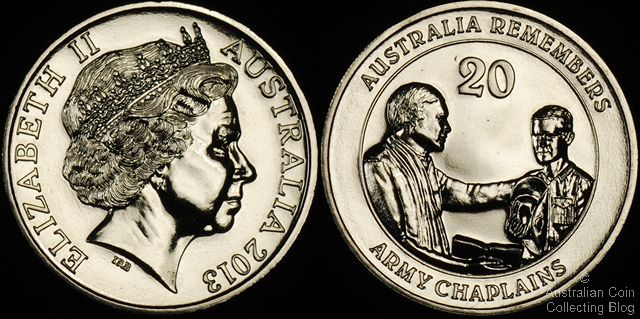 Australia 2013 Royal Australian Army Chaplains 20c
Above you can see the 5th in the series of "Australia Remembers" 20c coins issued by the Royal Australian Mint (RAM). The 2013 Army Chaplains Australia Remembers 20c coin, issued on the centenary of the founding of the Royal Australian Army Chaplains Department, is dedicated to the chaplains who have served in the Royal Australian Army since that time. The coin, despite being the standard copper / nickel composition of the normal circulation 20 cent coin and the regular 11.30 grams won't be found in your change, and is available encased in a protective capsule set into an information card issued for collectors.
There were chaplains present in the soldiers who embarked on the first fleet to Australian in 1787 but it wasn't until 1913 that the Royal Australian Army Chaplains Department (RAAChD) was founded officially with the appointment of 4 chaplains general. As of 2012 there were 150 army chaplains (or "padres") in service in the Australian army. According to the official website of the RAAChD the role of army chaplains is to:
"advise commanders and their staff on religious, spiritual, moral, ethical, cultural and welfare matters, to provide pastoral care to soldiers and their families, to provide advice to the chaplaincy chain of command and to coordinate and lead chaplaincy activities within units."
The obverse of the coin bears the standard depiction of Queen Elizabeth the Second as sculpted by Ian Rank-Broadley. The reverse of the coin shows a chaplain with an open Bible reaching out to a Digger who holds his characteristic slouch hat to his chest. The reverse was designed by Anna Meszaros, the grand-daughter of well known sculptor Andor Meszaros who designed the 1967 Pattern Swan Dollar.
The 2013 Australia Remembers Royal Australia Army Chaplains 20 cent will be produced on demand by the Royal Australian Mint so the final mintage will not be known for another year or two. Those interested in collecting the rest of the Australia Remembers 20c coin series should take a look at our other articles on the series. These are the Australian Service Nurses 20 cent, the Lost Soldiers of Fromelles 20 cent, the War Historians 20c, and the Merchant Navy 20 cent.
Posted by mnemtsas at May 4, 2013 4:45 PM
Subscribe to our Newsletter