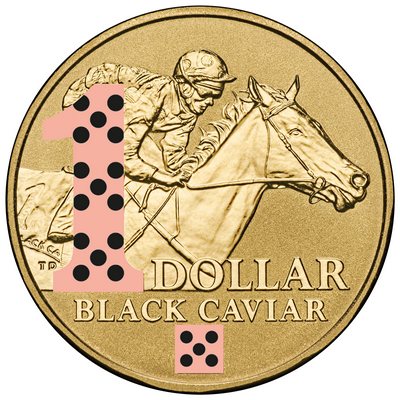 Australia 2013 Black Caviar Dollar in Aluminium/Bronze (Image courtesy www.ramint.gov.au)
On May 10, 2013 the Royal Australian Mint announced the release of two 2013 Black Caviar Dollar coins for the collector market. Just in case you've been living under a rock, Black Caviar is an Australian racehorse that retired just recently. The main claim to fame of this particular horse is that it could run fast, and as it turns out, quite a bit faster than every horse it happened to race against. The mare retired after having won 25 out of 25 short distance races it took part in. Quite a record if you happen to like horses that can run fast!
The first Black Caviar $1 coin is shown in the image above. It is a standard size and composition dollar coin, similar to what you'd see in your change. It's made from an aluminium bronze alloy, has a 25 millimetre diameter, and weighs 9 grams. This coin is going to be available with coloured pad printing showing the salmon and black jockey's silks. The coloured Black Caviar coin will be available packed into an information card depicting the horse in question. The same coin will also be available without the pad printing in a Postal Numismatic Cover (PNC). Mintages for this coin are currently unknown. The pad printed 2013 Black Caviar $1 was released at $16.95 and the PNC at $19.95.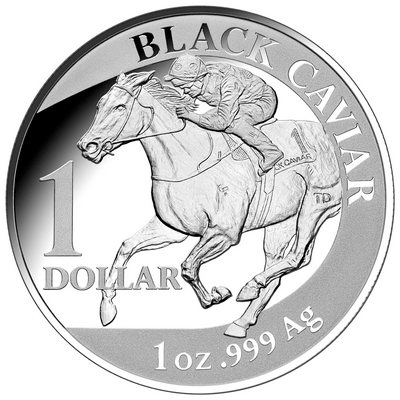 Australia 2013 Black Caviar Dollar in Silver (Image courtesy of the RAM)
The second coin release is the 2013 $1 Black Caviar Silver proof. This coin is struck in 1 ounce of 99.9% pure silver, has a 40mm diameter, and has a limited initial release of just 2500 coins. Release price for this coin was $120. It's likely that this coin will be minted again shortly as there's a cryptic mention of releasing this coin in a "Silver 2 Coin Proof Set" on the RAM website.
These coins were first made available to collectors at the 2013 Melbourne World Stamp Expo where you could also purchase couple of other new numismatic releases. To help the RAM promote the launch of these coins there was a display of the numerous trophies that Black Caviar won in her racing career (see the image below). We believe this was the first time all of the silverware had been displayed in one location. Certainly looks a lot nicer than my Under 13 Tennis Trophy.

Black Caviar Trophies at the 2013 Melbourne International Stamp Expo (Image courtesy of AC)
Posted by mnemtsas at May 12, 2013 7:11 PM
Subscribe to our Newsletter