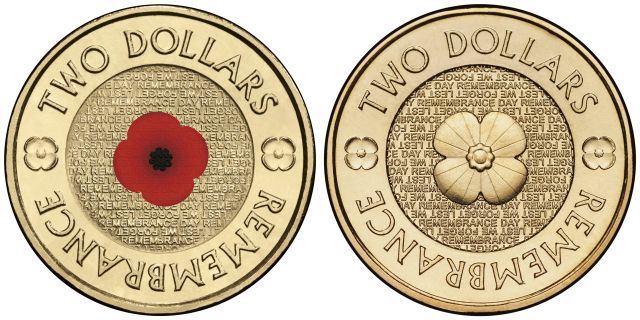 2012 Remembrance $2
It was back in January that news surfaced that we would have a new and exciting coin for circulation later this year. Well that time has come and the design has been unveiled. The new commemorative coin for circulation will be a $2 and there will be 2 versions (plus a C mintmark). One with a coloured poppy centre will be distributed through the RSL and a non-colourised version will be distributed through the usual channels of retailers and banks. We were under the impression the coloured version will be circulated but it's becoming clearer the "circulation"definition refers to it being circulated through the RSL.
500,000 coloured coins will be available through the RSL's Red Poppy Appeal and a production run of 5 million coins minted for circulation will be distributed in the coming months. A C mintmark 2012 Remembrance Popper $2 coin will also be available for collectors in special NCLT packaging and in an Australia Post Remembrance 2 Dollar PNC.
Australia has had the same design on the $2 coin since it's first issue in 1988, it's a breath of fresh air to see a different design and a fitting one at that for Remembrance Day 11/11 2012. Last year for 11/11/11 the 2011 Remembrance Day 5 Dollar Coin was released but a circulation coin can involve the public in what Remembrance Day is all about.
Posted by harrisk at October 26, 2012 9:39 AM
Subscribe to our Newsletter