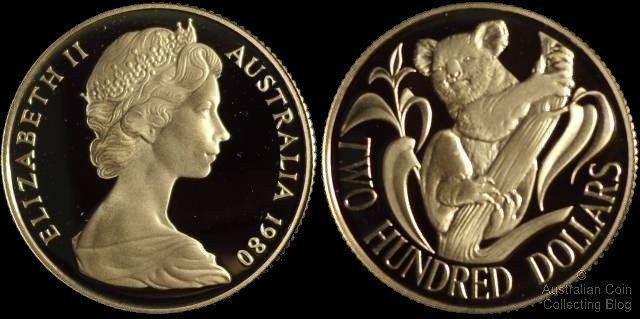 Australia 1980 Two Hundred Dollar $200 Gold Koala Coin, a popular example
Many Australian coins have been minted depicting the native Australian animal the Koala. This herbivorous marsupial is an iconic animal, ask yourself what's an important Australian animal, throw cute into the mix and the answer that springs to mind will be the Koala.
Koalas are not springy like Kangaroos, they tend to while the days away dozing in the fork of a tree becoming active in the night time eating gum leaves and living in the forks of branches in those eucalyptus trees. Commonly called the Koala Bear (particularly by the early settlers) they are not in fact bears but their name is derived from an aboriginal word meaning no water. Koalas don't often drink water as their eucalyptus leaf diet contains all the moisture they need to survive.
There are parts if Australia where you can find Koalas living in the wild without having to view them captive in zoos and wildlife parks. Wandering through Adelaide suburbs along bike paths and walking tracks you might look up and see a Koala -and you're in the city! They may appear cute but can be aggressive if approached so keep your distance.
Koalas have long appealed to tourists visiting Australia so you can see why the Mints are keen to depict the Australian Koala on a coin. The Royal Australian Mint shop in Canberra does a thriving trade of Koala related coin sales when busloads of tourists visit our coin producing factory in Deakin.
Here are some of the coins Australia has minted with Koala designs, if the Koala was a Chinese sign of the Zodiac then there would surely be even more Koala coins issued!
From our circulating coin producer the Royal Australian Mint:
2004 Student Design 50 cent is the only Koala you'll find in circulation, a design with other native animals
2009/10 Dorothy Wall 1 Dollar featuring Blinky Bill an illustrated character by Dorothy Wall
2009 Steve Irwin 1 Dollar also features a Koala
2008 Land Series Coloured Koala
1980-1986 Koala $200 Machin and Maklouf obverse (the 1980 Koala reverse with the Machin obverse seen above)
2008 5 Dollar Little Dinkums Cartoon Koala 1/25 oz Fine Gold Proof coin
From the Perth Mint:
2011 Bush Babies 1 Dollar Koala Silver Proof and PNC
2000 Olympic Issue 5 Dollar Koala and Flowering Gum Fine Silver Proof
2006 and 2010 Discover Australia Platinum, Silver and Gold Proof issues
2007-2011 Silver, Gold and Gilded Specimen, Proof and Piedfort (2009 Silver Specimen seen below)
1988-2005 Platinum Proof and Specimen
2013 1oz SIlver Coloured Coin in card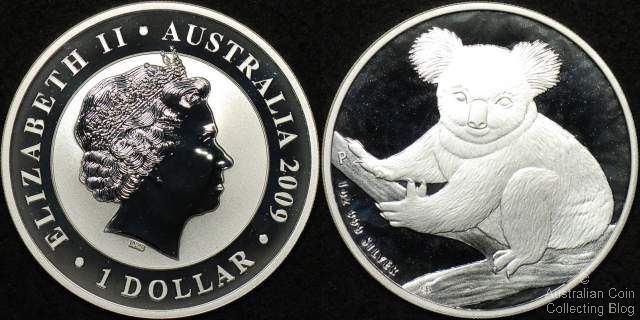 Australia 2009 1 Dollar Silver Koala Coin
Posted by harrisk at July 25, 2013 7:44 PM
Subscribe to our Newsletter