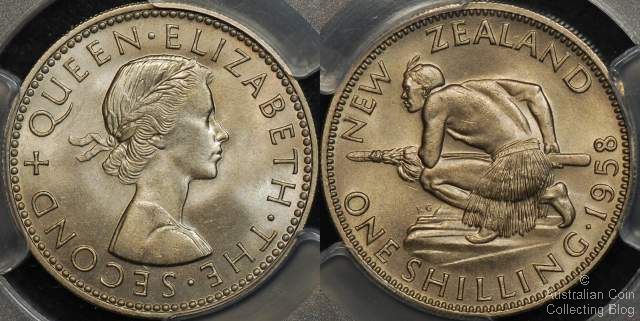 New Zealand 1958 Broken Back Shilling
Identifying the broken back variety New Zealand pre-decimal shilling can be difficult if you don't know what you're looking for. This die variety occurs in the 1942, 1958 and 1965 strikings of the shilling, here's what to look out for.
The New Zealand shilling reverse features a crouching Maori (sculpted by George Kruger Gray) in traditional dress, shirtless with a piupiu or grass skirt. At the bottom of the warrior's back to the right of his spine where it meets his clothing the broken back variety shows a lack of detail with a smooth flattened area between his back and his skirt. This is clearly shown in the comparison image below. It's very easy to see when you have a normal coin to compare that his back doesn't touch his waist. The New Zealand catalogue suggests this variety is due to die degradation or die fill but we're unable to comment on the accuracy of this. We'd need to see a number of coins of the same type from the same year to see if there is any progression of the variety during the life of the die. Best we can say right now is that the variety could be due to die degradation or fill OR could be a legitimate die variety.
This back/belt break is shown above on the 1958 shilling. There were 1,000,000 1958 shillings minted at the Royal Mint in London and released into circulation in New Zealand. Of this 1 million mintage perhaps 50,000-60,000 of the broken back variety exist suggesting one die used had the different detail in the reverse.
John Bertrand's New Zealand Coin and Banknote catalogue (2013 edition) estimates that the 1942 dated broken back shilling could have a mintage of 80,000 of the total 240,000 struck for that year. The 1965 examples are included in the total mintage of 3,500,000 and the population of the broken back variety for that year is not known.
The 1942 shillings were minted in 50% silver but the 1958 and 1965 coins are copper-nickel and can display a lovely tone. Each weighs 5.65 grams and are 23.62 millimetres in diameter with edge milling.
If these types of New Zealand varieties interest you then you should be on the lookout for the broken wing sixpence, round back vs flat back Kiwi on florins, no shoulder strap QE2 portraits and that's just the pre-decimals!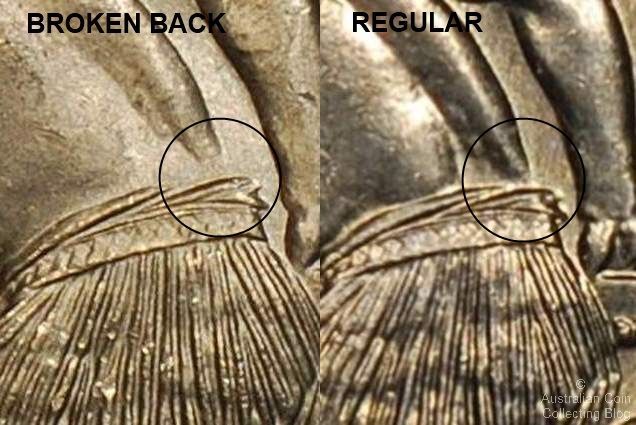 Comparison Image
Posted by harrisk at November 6, 2013 5:56 PM
Subscribe to our Newsletter