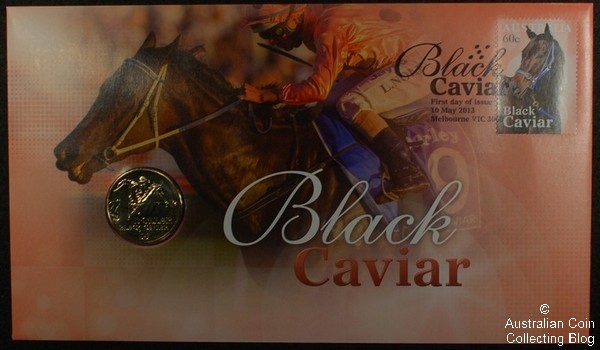 Black Caviar PNC
Were you swept up in the national hysteria that surrounded Black Caviar? Were you fortunate enough to have seen her race? And if you did, were you absolutely awestruck at the magnificence of the horse?
Imagine for a minute the slow-motion video footage of that last race ..............
the crashing and banging of barriers when the horses set off for the finish line, the thundering sound of hooves pounding around the racecourse, horse's grunting and snorting, muscles rippling, sweat droplets glistening in the mid afternoon sun, the tight bunchedness as positions are fought for, jockeys raising themselves higher and higher in their saddles, the echo of a rapturous crowd as Black Caviar starts to pull in front, the race commentator's fevered excitement within his voice with his pitch getting higher and higher till he's almost screaming, the thunderous applause and cheering as Black Caviar crosses the line .....
Named as Australian Champion Sprinter and Australian Horse of the Year in 2011 and 2012; World Champion Sprinter in 2010, 2011 and 2012; inducted into the Australian Racing Hall of Fame in 2013; and undefeated over 25 races earning more than A$8 million, Black Caviar was retired in April 2013 - and we'll probably never see the likes of such a horse again. All Australians were exceptionally fortunate to have witnessed history in the making.
Here's a few unusual facts about Black Caviar that you might not have previously known:
Black Caviar's beautiful to look at - sturdy, rippling muscles, beautifully proportioned - but weighs around an astonishing 600 kg.
Her stable name is plain and simple "Nelly" with her racing name bestowed by part-owner Pam Hawkes, who loves to eat black caviar. Black Caviar's racing colours of salmon pink and black dots symbolise caviar.
Black Caviar's 25 undefeated race record is the longest standing world record for more than 100 years, with Kincsem, an Hungarian mare racing in 1870, doing a fair bit better with 54 undefeated races.
Her winnings of more than AUD$8 million amounts to approximately AUD$318,253 per race or an amazing AUD$4,758 per second !
If you're overwhelmed with a sense of loss on Black Caviar's retirement, fear not - the Royal Australian Mint and Australia Post have come to the rescue, releasing a specially minted commemorative coin in a PNC (philatelic numismatic cover) to celebrate her extraordinary career. The PNC incorporates a 60c stamp and a $1.00 aluminium bronze alloy uncirculated coin - 25 millimetre diameter and weighing 9 grams.
This coin is most commonly found in this PNC but has been included in limited edition specially framed sets* (mintage of 1,000). A pad-printed **coloured version can be purchased in a collector card.
If the slow-motion video footage described above is still playing in your head, the reverse "true to life" artistic rendition by designer Tony Dean of Black Caviar and her jockey pounding on through to the finish line, will surely delight. The coin and PNC cover depicts Black Caviar as we've all come to recognize her - in full stride. The coin's obverse depicts the portrait of Queen Elizabeth II by Ian Rank-Broadley.
The PNC Black Caviar commemorative Stamp and Coin Cover is issued at $19.95. For the latest mintage information see the 2013 1 Dollar issues and mintages table.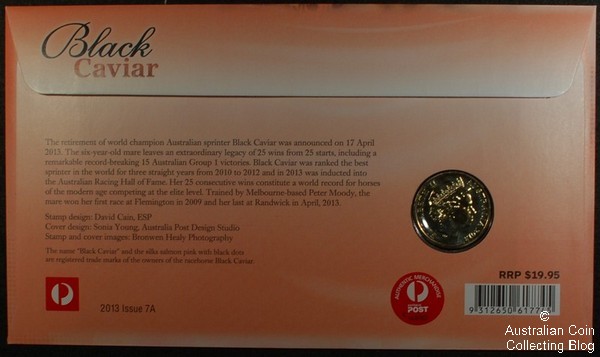 Black Caviar PNC
* Black Caviar Framed Set
**Black Caviar Coloured Dollar
Posted by harrisk at November 13, 2013 9:44 AM
Subscribe to our Newsletter