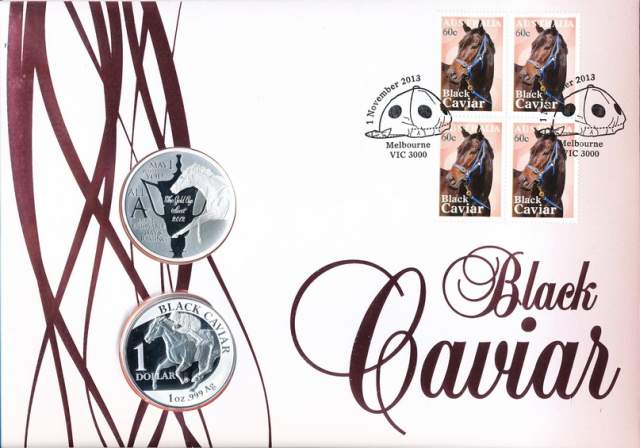 Limited Edition Black Caviar PNC
Black Caviar's racing success has given rise to many collector items celebrating her achievements. Not content with the aluminium bronze dollar PNC Australia Post has issued a special limited edition with the Australian fine silver proof coin designed by Tony Dean.
The 2013 1oz fine silver proof Black Caviar dollar dons this special PNC below the 2012 Royal Mint Cook Islands dollar commemorating the Queen's Diamond Jubilee featuring a racehorse at Royal Ascot -it was Black Caviar who won the race during that year. The PNC is a large size with decorative foiling and a commemorative postmark in a special leather-look wallet. The stamps were produced at the May 2013 World Stamp Expo in Melbourne and cancelled on 1 November.
This specially numbered PNC is limited to just 100 issued and were only available to those who were persistent on the phone to Australia Post from midday on November 17th 2013, with a limit of just one per customer. At a cost of $250 these PNCs just 3 months later are now selling for more than double.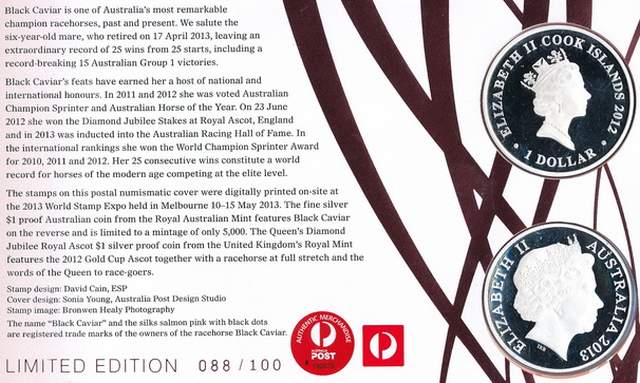 Posted by harrisk at January 15, 2014 1:13 PM
Subscribe to our Newsletter