During 2013, the Royal Australian Mint released the Polar Animals series which comprised six pad-printed colour coins - the Rockhopper Penguin, the Polar Bear, the Walrus, the Humpback Whale, the Weddell Seal and last but not least, the Atlantic Puffin.
Each of these Polar Animals, whilst living within the same geo-location, are extremely diverse from one another - from requiring particular habitats, through to food sourcing, through to mating rituals.
But sadly, they all share common phenomena - the loss of their habitats and food sources, with changes for the worse to their mating rituals - all attributed to human intervention and global warming. Some of these animals have now been placed on the "threatened list", with others on the "endangered list" - human intervention "for the good" is now necessary to save these species.
Amazing work by a number of zoo's and animal sanctuaries around the world are providing alternative habitats, with some amazing "borne in captivity" stories. And let's not forget the brilliant work performed by the numerous global not-for-profit organizations - lobbying governments for climate change and encouraging the establishment of marine environments.
Showcasing these animals in the Polar Animals series is sure to re-ignite public interest in saving these amazing animals and that one day, they'll all be taken off the "threatened" and "endangered" lists.
All 6 coins in this series feature a pad printed coloured reverse animal and a frosted uncirculated finish. Each is 25 millimetre in diameter struck on a 9 gram aluminium bronze planchet and are Australian legal tender for 1 dollar. All bear the Ian Rank-Broadley of Queen Elizabeth II on the obverse and have interrupted edge milling. For mintages of each see the 2013 1 dollar coin mintages table.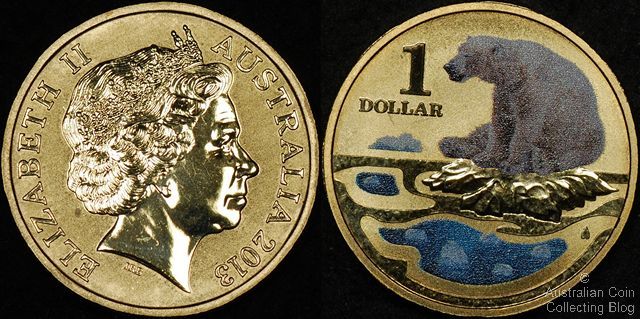 Australia 2013 Polar Bear Coloured 1 Dollar
Posted by harrisk at January 19, 2014 10:51 AM
Subscribe to our Newsletter