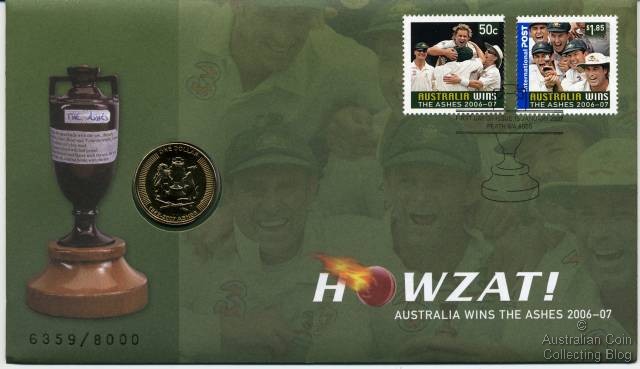 2007 The Ashes PNC
In 2007 a
PNC
was released jointly by the Royal Australian Mint and Australia Post. It contained a circulation size
25 millimetre aluminium bronze dollar
but this coin was not released into circulation. It featured the regular Ian Rank-Broadley effigy of Queen Elizabeth II and a cricket themed reverse by Wojciech Pietranik.
This coin was housed in a first day cover envelope featuring 2 stamps cancelled on their first day of issue 16 January 2007. This coin and PNC commemorated the Australians winning back the cricketers "holy grail' Ashes Cricket series trophy after it being lost for 2 years to the English. We had previously held the Ashes trophy for 16 years. The Ashes series has been in play between Australia and England since 1882 and the coin features the iconic Ashes Urn Trophy.
This was the very first philatelic numismatic cover (pnc) issued that had a limited mintage of covers. Each of these PNC's were numbered from 1 to 8 000. Each PNC also featured a small sticker on the reverse signifying it a genuine product endorsed by Cricketing Australia. Inside the envelope, a informative card housed the actual coin.
Initially there was much talk about this issue because of it's theme and limited mintage. At issue price of just $19.95 it was a must-have. Initially it seemed that stocks were limited and collectors, both numismatic, philatelic and cricket crazy rushed in to secure their PNC. This pushed the price up to record highs of over $150 and people rushed to check their local post offices to get consecutive numbered envelopes. Often in this situation there is plenty to go around but because of the initial rush so as not to miss out the price spiked. Now once sellers had a taste of the high price and buyers had paid a premium they wouldn't let their PNC's sell for much less. The price has settled down now from a low of $90 up to around $100-$120 but these still remain at a high cv of $175.
This issue sparked mass interest in PNC's and a new craze. Subsequent issues such as the Sydney Harbour Bridge PNC or the Lifesaver PNC sold well but haven't faired as an investment barely managing to fetch issue price on resale. This new craze brought about the backyard PNC maker wanted to cash in on the PNC rush. Thankfully after about 18 months, the great PNC hype has died down. Beware though if the RAM join forces with AP again, put a special stamp on an envelope and only make a limited number then everyone will come out of the woodwork to make their quick buck!
Posted by harrisk at April 26, 2009 8:42 PM
Subscribe to our Newsletter