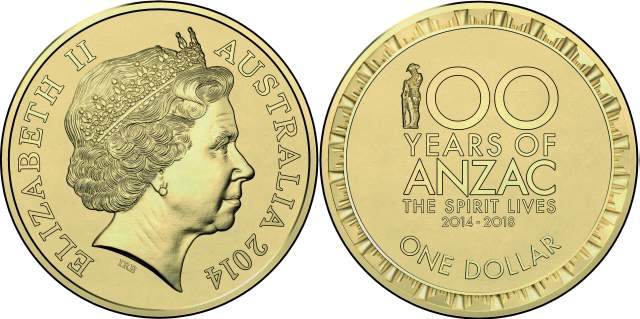 Circulating Australian Dollar 2014 Anzac Centenary (image courtesy www.ramint.gov.au)
Commemorating the Centenary of Anzac, 100 years of Anzac the spirit lives 2014-2018 this is the first coin seen among a number of Anzac related coins being produced by the Royal Australian Mint. This particular issue is a circulating design so will soon be found in your change with enough minted for every person in the country, 23 million! These will be distributed through banks and retailers and won't be available to purchase from the Mint but can be found in a special PNC issued by Australia Post. There will however be other coin issues in the Anzac Centenary collectable coin program with this coin not technically included in this program.
The reverse features the Anzac Centenary logo which depicts an image of an Aussie soldier with head bowed and rifle reversed in solemn reflection. The Anzac Centenary logo is the symbol that recognises, identifies and commemorates the one hundred years since the First World War, it has been designed to encapsulate the unique qualities that forged the spirit of Anzac and gave birth to our national identity: courage, mateship, sacrifice, generosity, freedom, and a fair go for all. The rim beading seen on the coin is actually a motif reflecting the sun's rays as seen on the Army's Rising Sun badge.
This new coin was unveiled at the launch at Parliament House today attended by students from St Andrews Primary School in Werribee where they were presented with the new coins by the Minister Assisting the Prime Minister for the Centenary of Anzac, Senator the Hon. Michael Ronaldson, and Parliamentary Secretary to the Treasurer, The Hon. Steven Ciobo MP.
It's hoped with such a coin entering circulation the public will be reminded when they receive a coin in change of the service and sacrifice of our defence personnel. Stay tuned for issues from the RAM in the Anzac Centenary collectable coin program commemorating significant dates and events through 1914 to 1918.
Posted by harrisk at February 13, 2014 12:47 PM
Subscribe to our Newsletter