If anyone has been to the new Royal Australian Mint visitor centre next door to the old mint building you'll be pleasantly surprised to find fantastic viewing opportunities for visitors to watch coins being struck, packed and moved around the facility. The visitor is presented with a vast expanse of production viewing, displays, a theatrette, the Mint shop, 2 gallery presses and a cascade of 5c pieces down the staircase. With the large expense of preparing the new facility I would have thought the Mint would have put some more thought into the displays in their museum on the first floor with coins on show from the Mints' National Coin Collection as well as displays illustrating the history of Australian coins.
There are some beautiful and magnificent coins on display from our proclamation heritage to spectacular error coins and pattern and test coins that didn't make it into production. The questions I have though is that why are coins with such significance to our national heritage not protected or stored correctly to ensure the preservation of the coins for the future. Coin storage is a passion of mine and when wandering through the displays at the new Mint building I am horrified at the way some of their coins are being stored, housed and displayed.
Below we have a leather wallet presented to Prime Minister Sir Robert Menzies. The wallet, with 1966 coins inside bear the initials R.G.M obviously in very original condition with green verdigris growing on the coins inside.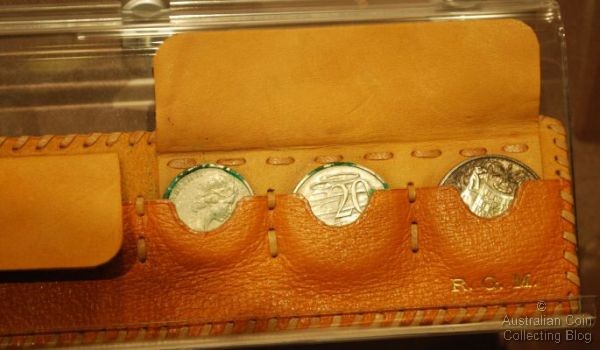 Leather Wallet presented to the Prime Minister
A lot of special coins are displayed on small acrylic "shelves" for want of a better word. A small 1894 Great Britain Maudy Penny is too small to be held up by the notch in the acrylic stand and is held in place by blu tack!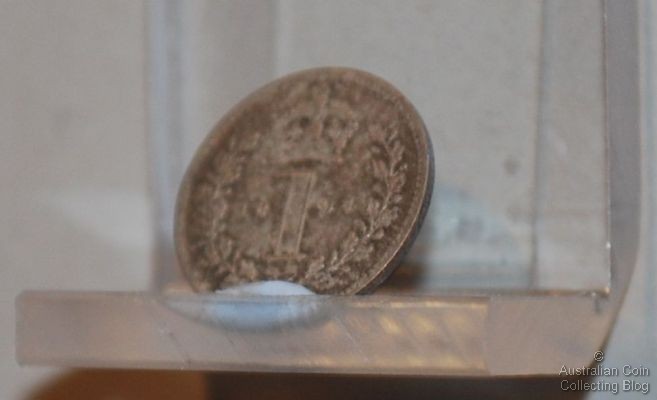 Small coin display held up by Blu Tack
Unprotected coins of significant value lay loose in cabinets willy nilly.

Left to right: unc 1925 penny (c.v $17,500), unc 1946 penny (c.v $3,500), 1937 penny (c.v $250,000+), 1937 shilling ( c.v $195,000) and a proof 1939 (roo) halfpenny (c.v $40,000).
A display noting mintmarks points to a 1945 penny with a "P" mintmark. Whilst there is no image available for this, we all know the mintmark is a dot after the Y for most Perth minted coins. Our tourist visitors inspecting this coin would be scratching their heads to find that elusive "P" mintmark.
Displays of our newest decimal commemoratives show an extreme lack of imagination. Coins in cheap capsules glued to strips of black cardboard display our nations coins to the bus loads of tourists visiting the Mint. One can hope that these displays are only temporary and more permanent and appropriate housing for these coins will be produced in the near future.
edit: (20/03/2010) The display of these coins at the RAM has been improved, this display was temporary.

Permanent coin display?
We know the original vinyl packaging for mint sets is detrimental to the health (you did know didn't you?) of the coins it houses. Coins in these PVC packs get slimy and green, this slimy film etches into the coin surface over time destroying it. These sets need to be displayed, yes, but in a way that protects these coins for the future to see without damaging the coin and destroying it's appearance.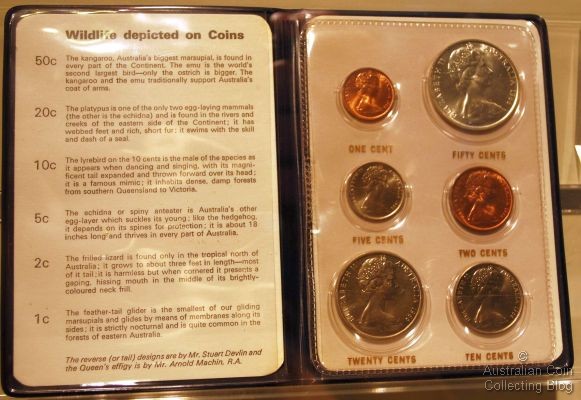 Early Mint Sets in PVC Wallet
The lack of proper archival storage techniques for the coins in the mint displays is shown with damaged pieces clearly in need of some TLC.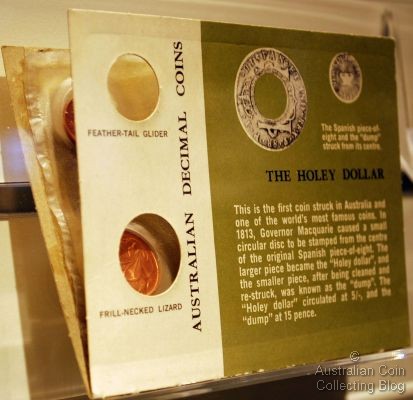 1966 card in need of some archival grade tender loving care
Another set clearly not the finest specimen to be depicting this mass produced private release of the new circulating decimal coins in 1966.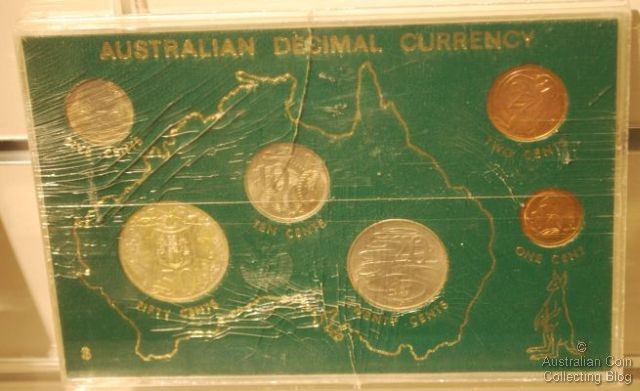 Non-RAM mass produced set incorporating circulated coins
Whilst there is a display still awaiting completion we can only hope that advice is sought and displays at the new Royal Australian Mint building are altered to preserve our coins and our heritage and history for future generations to appreciate.
Posted by harrisk at January 10, 2010 6:28 PM
Subscribe to our Newsletter