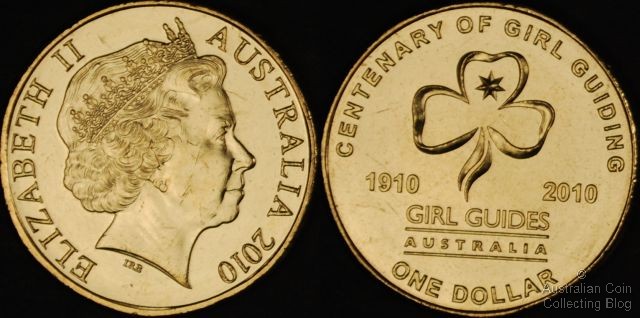 2010 Girl Guide $1
Announced in August 2009 this new release 2010 circulating one dollar design commemorates 100 years of the Girl Guides in Australia. This coin will soon be found in your change or can be purchased in RAM wrappered rolls from the Royal Australian Mint or your local coin dealer. A sister coin so to speak for the similar release back in 2008 marking the Scouting Centenary.
Since it's establishment in 1910, a centenary ago, the iconic Girl Guide movement has played a key role in supporting Australian girls and as they develop into confident young women for the past 100 years.
This standard size 25mm, 9 gram, aluminium bronze circulating one dollar coin features the Girl Guide logo, the Trefoil or 3 leaf clover on the reverse surrounded by "Centenary of Girl Guiding One Dollar 1910 2010 Girl Guides Australia". This 3 leaf clover symbolises the Girl Guide promise "To do my duty to God, to serve the Queen and my country, to help other people and to keep the Guide Law". This reverse design is by RAM designer Wojciech Pietranik but noes not bear his initials.
The obverse depicts the standard Ian Rank-Broadley effigy of Queen Elizabeth II.
This coin is being released into circulation, check the mintage in the 2010 Mintage Table. It has also been released in a special PNC jointly with Australia Post for $14.95.
Posted by harrisk at June 4, 2010 12:53 PM
Subscribe to our Newsletter