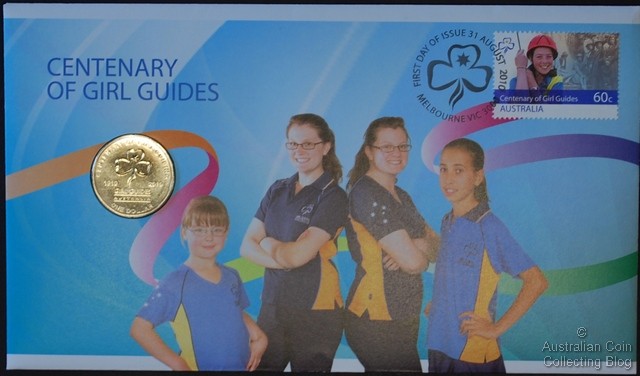 2010 Centenary of Girl Guiding in Australia PNC
Celebrating the centenary of Girl Guides from 1910 to 2010 over 1 million women have been or are still active within the Guides. Their motto for this celebration is "100 years of changing lives". 100 years of challenging it's members and developing skills in leadership and teamwork enabling girls and young women to grow and positively contribute in society.
Released into circulation in 2010 was this Centenary of Girl Guiding one dollar. It was also issued by Australia Post as a PNC -philatelic numismatic cover or stamp and coin cover.
Shown above, the PNC features some of the Girl Guide members. Australia Post issued a stamp series of which the 60c design is on the envelope cover. It is postmarked 31 August 2010 at Melbourne Victoria 3000.
The PNC contains an insert with the coin capsuled inside. This insert provided by the Royal Australian Mint. For more information on the coin design see the Australian Dollar Coins 2010 Centenary of Girl Guiding Dollar entry.
The envelope reverse (shown below) depicts the 100 years girl guides logo and information about the Guides and their history. The cover shows an authentic merchandise sticker from Australia Post and was released for $14.95. Check the mintage in the 2010 Mintage Table.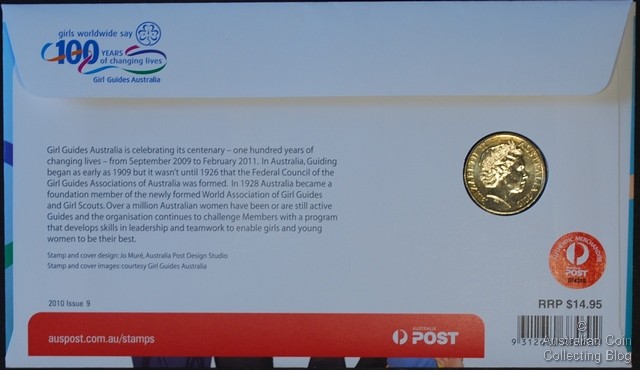 2010 Centenary of Girl Guiding in Australia PNC
Posted by harrisk at December 3, 2010 7:02 AM
Subscribe to our Newsletter