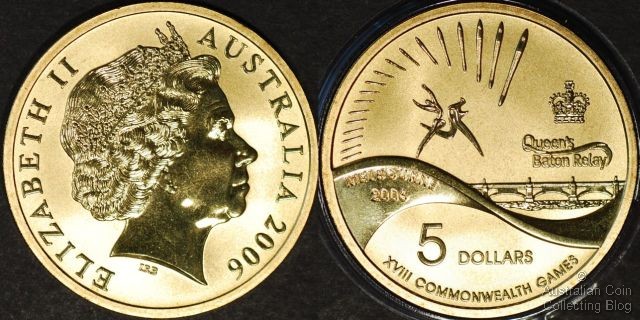 2006 Melbourne Commonwealth Games Queen's Baton Relay $5
The lead up to the Commonwealth Games in Melbourne 2006 was a big deal in the numismatic market. A plethora of coin releases included 50c designs, one dollar, $5 and $10 issues, all from the Royal Australian Mint in Canberra.
This issue seen above features the Queen's Baton Relay. This relay saw an 180,000 kilometre journey around the Commonwealth nations from Buckingham Palace and ending at the opening ceremony of the Games. The journey to Melbourne was the world's longest, travelling through the 71 countries for 366 days. The baton's journey symbolises the unity and shared ideals of the Commonwealth of Nations.
The baton itself featured satellite tracking and a camera enabling everyone to follow the relay. It also housed 71 lights which lit up progressively as the baton moved through the 71 nations. The elegant, curved form of the baton took its inspiration from the physical form of athletes arching forward as they strive for success.
This five dollar coin was presented in uncirculated and proof finish and was included in a PNC and in the Complete Uncirculated Coin Collection folder including the 16 sports coins and the student design 50c. The reverse was designed by Peter Soobik and features a fan of batons, the Melbourne 2006 logo, St Edward's Crown and a depiction of the path of the baton relay runners.
The coin itself is 38.74mm and weighs 20g. It is made of aluminium zinc and bronze. The obverse features the standard Ian Rank-Broadley portrait of Queen Elizabeth II. This example has the joined IRB variety of this effigy.
23,375 uncirculated coins were released (for $12.95) inclusive of the 15,500 in the Complete Collection folder.
22,002 uncirculated coins were issued in a PNC for $14.95.
9,100 silver proof coins were issued (weighing 36.31g) at $68.50.
Posted by harrisk at December 3, 2010 7:51 AM
Subscribe to our Newsletter