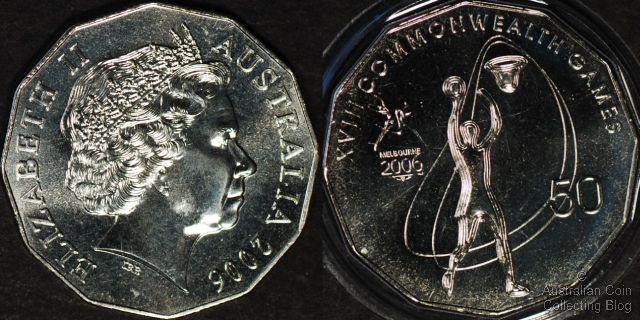 Australia 2006 Melbourne Commonwealth Games Sports Collection Series -Netball 50c
Netball held at the Commonwealth Games is a women only competition and surprisingly very popular with viewers and spectators. 12 nations competed at the Melbourne 2006 Games with New Zealand taking the gold beating the reigning Commonwealth champions, Australia who took the silver.
To celebrate the sporting events held during the Melbourne Commonwealth Games a series of 16 50c coins were released by the Royal Australian Mint as well as a student designed 50c, a one dollar, $5 and $10 coins. The Mint was one of the sponsors of the Games and also designed and produced the winning gold, silver and bronze medals.
The first release in this 50 cent coin series included Basketball, Hockey, Shooting and Weightlifting coins. The second release included Cycling, Badminton, Rugby 7's and Gymnastics. This Netball coin was included in the third release with Athletics, Triathlon and Table Tennis. It was minted as a collector coin and not released into circulation. It was issued in a capsule in an informative card by itself and for inclusion in the Melbourne Commonwealth Games Sports Collection series. The individual 50c coins in the series were sold for issue price of $4.95.
The coin design is by RAM designer Wojciech Pietranik and depicts netball in action and the Melbourne 2006 logo. The obverse is the standard effigy of Queen Elizabeth II, who officially opened the Games, by Ian Rank-Broadley. It is the standard dodecagonal shape 31.51mm in size and weighs 15.55g. It is made from cupro nickel which is 75% copper and 25% nickel. The card also features a sticker of 'Karak', a red-tailed black cockatoo and Games mascot indicating it is an official licensed product.
22,432 of these uncirculated coins were issued to collectors which includes 15,500 issued for inclusion in the complete collection folder.
The complete collection folder included the 16 sporting 50c, the student design 50c and the Queen's Baton Relay $5 coin. Initially these folders were sold (May 2005) as a starter pack which included the first 4 sporting 50c coins and the rest of the sporting 50c were sent out to collectors as they were released later in the year. The second release was sent out in July 2005 and this, the Netball coin included in the third release in November 2005.
Posted by harrisk at December 1, 2010 7:12 PM
Subscribe to our Newsletter