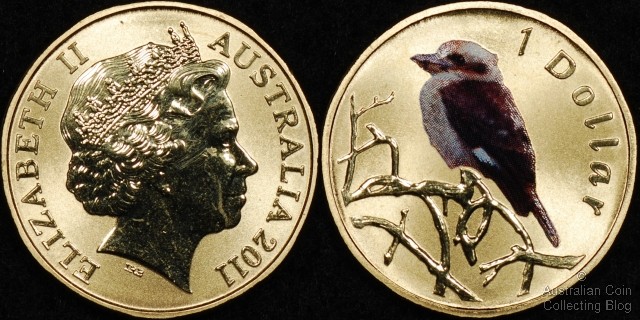 Air Series Kookaburra $1
Released by the Royal Australian Mint in tandem with the Rosella one dollar this is the second coin minted in the Air Series.
Following the successful 2006-7 Ocean Series and the 2008-9 Land Series coins the Kookaburra is the second for 2011 in the latest Air Series of (6) one dollar coins.
This Kookaburra dollar is a pad-printed coloured coin with a Kookaburra on the reverse designed by Caitlin Goodall. Struck to uncirculated quality with a frosted finish in aluminium bronze this coin is housed in a capsule with descriptive card. It is the standard 25mm circulation size but is not a circulating design. Instead it is termed NCLT or non-circulating legal tender, coins targeted at collectors and these I'm sure at avid bird lovers. Legal tender for $1 this coin is issued $14.95, the mintage can be found in the 2011 mintages table. The obverse is the standard design of Queen Elizabeth II that we see on Australian currency by Ian Rank-Broadley. See the other issues in the Air Series.

Posted by harrisk at February 21, 2011 7:37 PM
Subscribe to our Newsletter