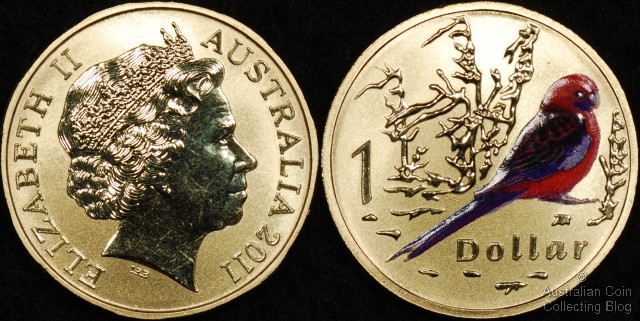 Air Series Rosella $1
Complementing the 2006-7 Ocean Series and the 2008-9 Land Series coins by the Royal Australian Mint the Rosella is the first for 2011 in the latest Air Series of (6) one dollars. Collectors thought this set had been dumped from production but the first coin in this Air Series is sure to be a collectors delight. These circulation type dollars are often more sought by collectors in comparison to larger sized coins with differing compositions. I guess one can relate to those coins similar to what you'll find in change.
This Rosella dollar is a pad-printed coloured coin with a stunning Crimson Rosella on the reverse designed by Caitlin Goodall. Struck to uncirculated quality with a frosted finish in aluminium bronze this coin is housed in a capsule which snaps tightly into a descriptive cardboard card. It is the standard 25mm circulation size but is not a circulating design. Instead it is termed NCLT, a coin targeted at collectors and I'm sure avid bird lovers. Legal tender for $1 this coin is issued at $14.95, the mintage can be found in the 2011 mintages table. The obverse is the standard design of Queen Elizabeth II that we see on Australian currency by Ian Rank-Broadley.
See the other issues in the Air Series.
We've also reported before that it's very easy to manipulate the surfaces of these coloured coins so it appears you have a mint error coin. A smart collector is an educated collector so have a read of our previous articles: RAM Coloured Coin Issues -buyer beware and RAM Coloured Coin Issues -buyer beware: part 2
Posted by harrisk at February 21, 2011 7:03 PM
Subscribe to our Newsletter