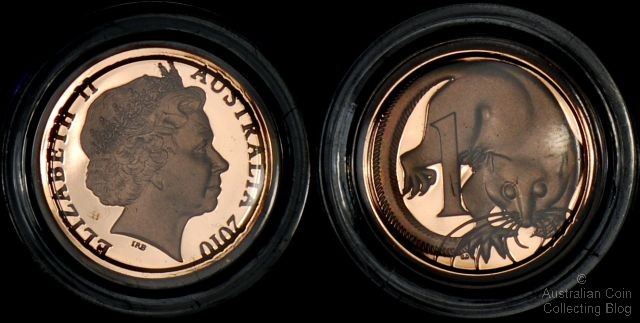 Australia 2010 1c Proof - Bronze Mintage: 400
Above you can see the feather-tailed glider on a bronze Australian coin for the first time since 2006. It is of course, a proof 1c coin minted in 2010, a coin with a mintage of just 400 coins. As one element of the 1966 Decimal Heritage Set it was released to celebrate the 1966 coins that ushered in the decimal era. It also gave collectors the first chance to examine some of the alternate coin designs that never reached our pockets.
You probably know that 1c coins were last minted for circulation in 1990 and they've since disappeared from our change. However, in 2006, to celebrate the 40th anniversary of "C Day" on the 14th of February 1966 the RAM minted 1c coins again as part of the 2006 mint and proof sets. The 2006 1c coin has more than 100 times the mintage of this 2010 proof 1c. Yes, the 2010 proof 1c is truly scarce.
This 2010 coin carries the Ian Rank-Broadley image of QE2, while the feather-tailed glider is the same as envisaged by Stuart Devlin for the 1966 1c coins.
If you weren't one of the lucky few to purchase one of the just 400 1966 Decimal Heritage Sets in late November 2010 then you've got a daunting task in front of you to try to get hold of one of these 2010 proof 1c coins. You'll need to either buy a set on the secondary market (likely at an inflated price) or wait for the separate coins to appear for sale. No doubt some of the more mercenary collectors who snaffled one of the 1966 sets will break them up to make some quick profits.
Posted by mnemtsas at February 1, 2011 6:49 PM
Subscribe to our Newsletter