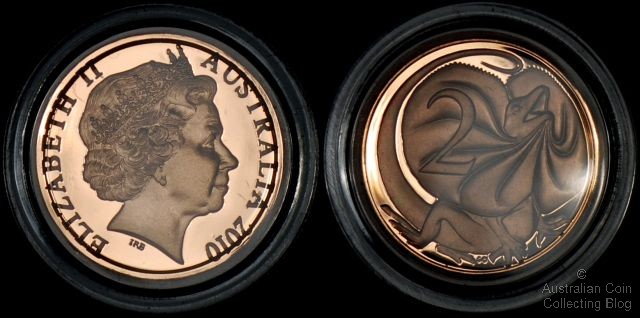 Australia 2010 2c Proof - Bronze Mintage: 400
Seen above is the Australian 2010 Proof 2c coin struck in bronze (97% Copper, 2.5% Zinc, 0.5% Nickel) to proof standards for just the second time since 1991. This coin, wilh a mintage of just 400 coins was part of the 1966 Decimal Heritage Set that was released by the RAM in 2010.
Bronze 1c and 2c coins were minted for circulation in Australia for the last time in 1989 but made an appearance in the 1990 and 1991 mint and proof sets, which was the last time we saw them until 2006. In that year they were included in the mint and proof sets celebrating the 40th year since the changeover to decimal currency in 1966. However, the 1990, 1991 and the 2006 proof coins have mintages in excess of 40,000 so you can see that this 2010 issue is truly scarce indeed.
The coin above carries the Ian Rank-Broadley portrait of Queen Elizabeth II and the same reverse design we saw on all Australian 2c coins, the frilled-neck lizard. Like all the reverses of our 1966 decimal coins the reverse was originally sculpted by Stuart Devlin.
If you're wanting to obtain one of these 2c coins to complete your Australian proof coin collection then we can only wish you the best of luck. You'll either need to own one of the 1966 Decimal Heritage sets, will need to purchase one on the secondary market, or wait for the inevitable appearance of the individual coins for sale as coin dealers break up the sets to realise greater profits.
Posted by mnemtsas at February 1, 2011 6:38 PM
Subscribe to our Newsletter