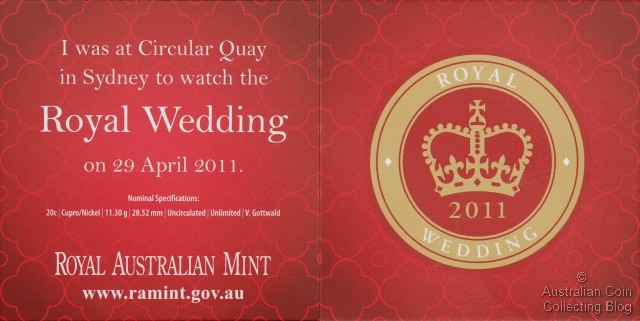 Royal Wedding Swap Card from Circular Quay in Sydney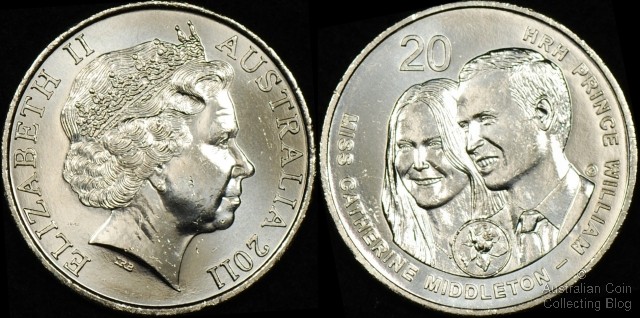 Royal Wedding circulation 20c
Special events were held across the world last Friday April 29th as royal followers watched the wedding of Prince William and Kate Middleton, now the Duke and Duchess of Cambridge marry at Westminster Abbey.
Live sites were set up in capital cities where the public could watch on big screens the event unfold. One of these live sites was at Customs House Square in Circular Quay, Sydney. The Royal Australian Mint had a booth promoting new Australian coins released celebrating the Royal Wedding and a special "coin swap" program took place. The live sites big screens displayed a number to SMS and a code was received in reply. This code allowed the public to visit the RAM's booth, fill out a personal information card* and swap any 20c for a new 2011 Royal Wedding circulation 20c. 15,000** of these coins were swapped, each coin housed with a red card saying "I was at Circular Quay in Sydney to watch the Royal Wedding on 29 April 2011". The coin and card housed in a resealable polypropylene pocket (the author of this entry very impressed by the move away from damaging pvc packaging). The card issued with the coin seen above.
In Canberra on the morning after, Saturday April 30 the official coin launch took place at the Royal Australian Mint. The event featured a special devonshire morning tea, Royal coin collection valuations, speeches and for the first 1,000 people, the opportunity to swap 20c for a new circulating Wedding coin. Visitors had to make a purchase of the uncirculated Royal Wedding 50c from the coin shop to be eligible for the swap and the coin came without any special packaging.
*entrants consenting to their personal information being used by the RAM for future marketing and promotional purposes (Terms and Conditions of the swap).
**Actual mintage 7,738 RAM Annual Report 2010/11
Posted by harrisk at May 6, 2011 9:05 AM
Subscribe to our Newsletter