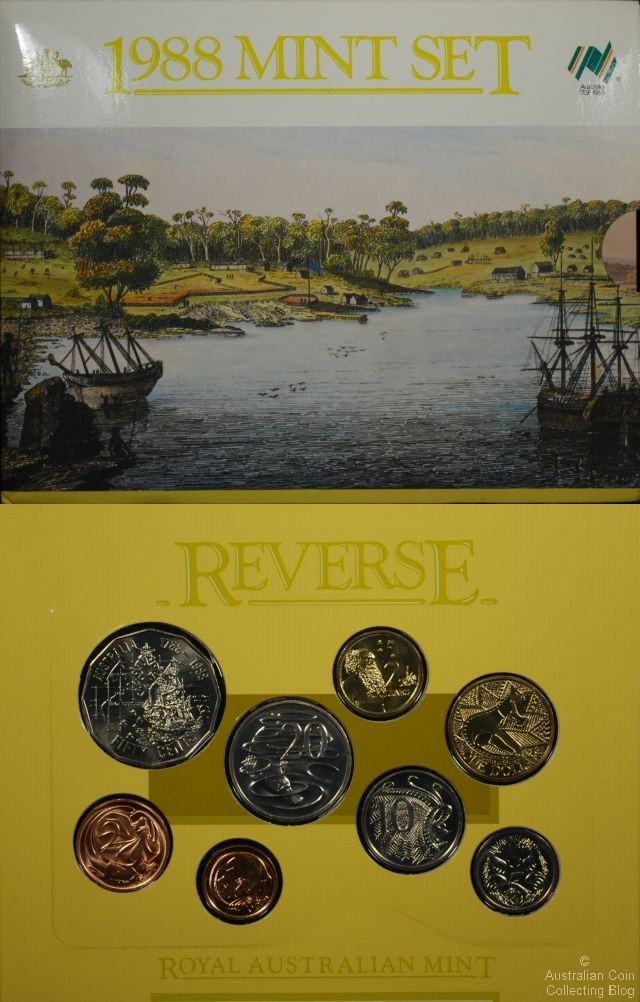 1988 Mint Set
The 1988 mint set produced by the Royal Australian Mint celebrated 200 years since the First Fleet arrived in Australia and saw the introduction of the $2 coin replacing the $2 note.
This eight coin set features the standard 1c, 2c, 5c, 10c, 20c reverse designs by Stuart Devlin. The new two dollar coin reverse is by the Royal Australian Mint's chief engraver Horst Hahne. The set features a commemorative 50c by Michael Tracey and Bicentenary $1 design by Stuart Devlin.
The obverse effigy of Queen Elizabeth II on all 1988 dated coins is by Raphael Maklouf.
This year set includes all circulation coins issued in 1988. The mintset might be the only way to obtain a 20c as it is widely thought of by collectors that although 174,000 coins were minted for circulation that all or almost all of these coins were melted down and not released into circulation.
290,940 of this mint set were issued for $12 each. 10,000 1988 mint sets were issued at $13 each with a sticker indicating their purchase at a coin fair. For other Mint Set issues see the master list The Australian Mint Set - Royal Australian Mint Uncirculated Year Set Issues.

1988 Mint Set
Posted by harrisk at August 12, 2011 8:42 AM
Subscribe to our Newsletter