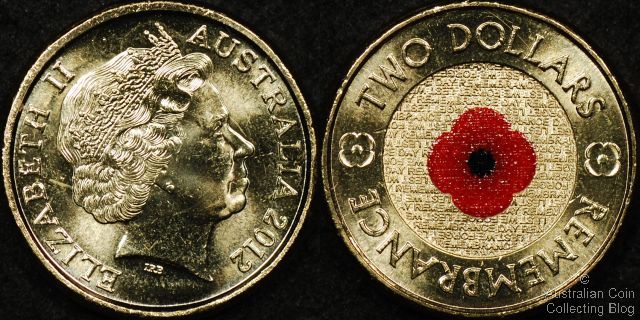 2012 Remembrance Coloured Commemorative $2 RSL Issue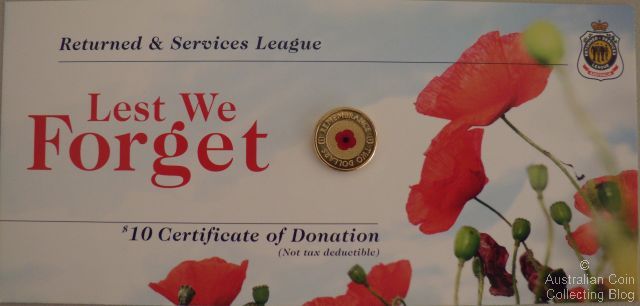 2012 Remembrance Coloured Commemorative $2 RSL Card
A $10 donation to the RSL and a coloured version of the new circulating commemorative Remembrance $2 could be yours! A stunning little coin minted by the Royal Australian Mint designed by Aaron Baggio. This is the first $2 we've ever seen with a different design to the aboriginal and it certainly is a pretty one in colour.
The RSL has 500,000 of these coins to raise money for the Red Poppy Appeal for Remembrance Day 11.11.12. It was difficult to obtain these coins and Remembrance Day came and went without a coloured poppy $2 in sight, not for want of me trying. My eagerness to add one of these to my collection saw me order 4 coins from the RSL in another state, the QLD RSL posting out these coins with a small added postage cost. When they arrived they were keenly glued to the donation card much to my horror. After notifying them through the RAM this practice has been ceased.
They're certainly the advertised circulating quality with 3 of the 4 coins I ordered not worthy of an uncirculated coin collection with bagmarks, scratches and rolling machine scrapes evident. It might end up hard to find one of these in top grade. But it could be a great start to your commemorative $2 collection!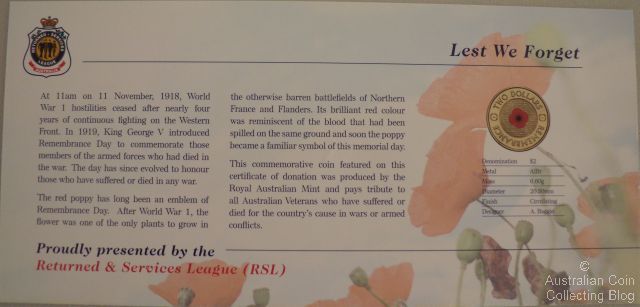 2012 Remembrance Coloured Commemorative $2 RSL Card
Posted by harrisk at November 18, 2012 9:43 AM
Subscribe to our Newsletter