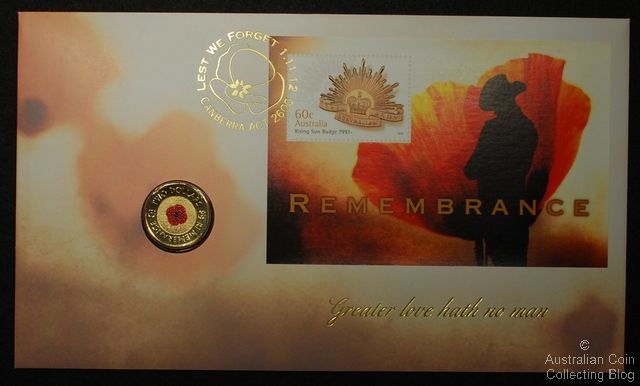 2012 Remembrance $2 C Mint Mark in Postal Numismatic Cover

The 2012 Remembrance Poppy 2 dollar has been struck with this coloured version being released in an Australia Post PNC. It's a breath of fresh air for the stodgy little $2 coin to see it with a stunning red poppy commemorative design and doesn't it look great in this PNC. You'll notice it's different to the coin distributed by the RSL for Remembrance Day in that it has a C mintmark inside the right hand edge poppy around the legend. Distributed at Australia Post outlets this PNC has been by far the easiest to obtain the new $2 design. Soon you'll find this design in change minus the C mintmark and the coloured printing.
Australia Post has limited this release to 20,000 with every PNC numbered on the back. Issue price is $19.95.
The 2012 PNC shouldn't be confused with the 2011 Remembrance Day $5 PNC.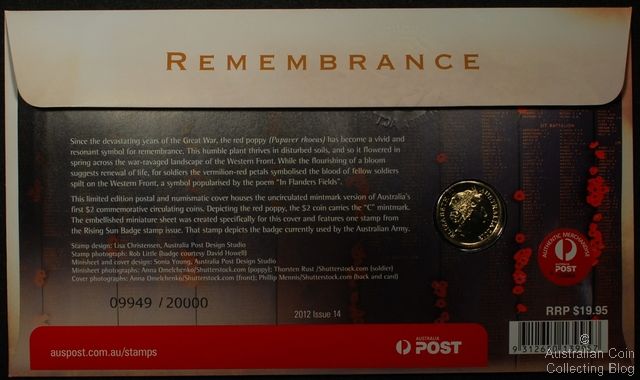 2012 Remembrance Commemorative $2 Cmm in PNC
Posted by harrisk at November 18, 2012 9:00 AM
Subscribe to our Newsletter