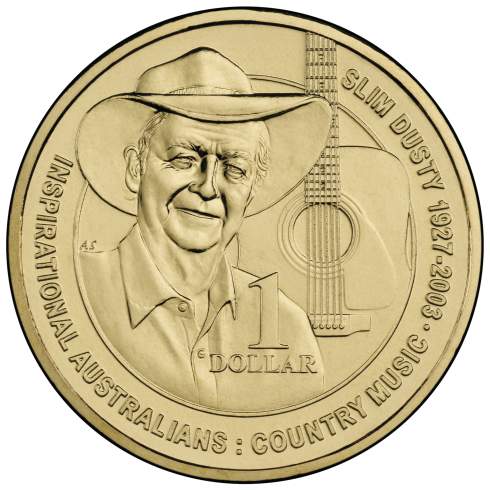 Slim Dusty Coin (image courtesy www.ramint.gov.au)
David Gordon Kirkpatrick AO, MBE is more affectionately known as Slim Dusty was a famed country music singer and songwriter for over 70 years. He is well known by this decimal changeover enthusiast as the singer of the song Decimal Currency Pub (well worth a nostalgic listen on youtube). Slims bush ballads and Aussie tunes span over 100 albums released selling over 7 million copies and were even broadcast from space on the 1981 Space Shuttle Columbia Mission.
2013 celebrates the 10th anniversary since the death of this King of Country and as such the Royal Australian Mint has released another 1 dollar coin in the inspirational Australians series honouring the achievements of unique and extraordinary Australians. Previously in this series we've seen Mary MacKillop (2008), Steve Irwin (2009), Fred Hollows (2010), Dame Joan Sutherland (2011) and Sir Douglas Mawson (2012) captured on a one dollar reverse. This Slim Dusty 1 dollar features a portrait of Slim next to his acoustic guitar (is it one of his 36 golden guitars awarded to him at the Tamworth Country Music awards) and designed by Aleksandra Stokic in collaboration with the Slim Dusty Foundation. The design includes Aleksandras initials AS.
This coin has the same characteristics as a dollar coin you find in your change but this design has been released for collectors (termed NCLT) only. Released in a collector card this uncirculated coin is produced in aluminium bronze and weighs 9 grams and is 25 millimetres in diameter. It has interrupted edge milling. The obverse or heads side features the standard Ian Rank-Broadley portrait of Queen Elizabeth II who celebrates 60 years since her coronation as Queen this year. Initially minted to collector demand the final mintages can be found in the 2013 issues and mintages page as they become available.
Issued for $13.50 proceeds of coin sales will go to the Slim Dusty Foundation helping to build the Slim Dusty Centre in his hometown of Kempsey NSW and develop scholarships to assist young Country Music artists.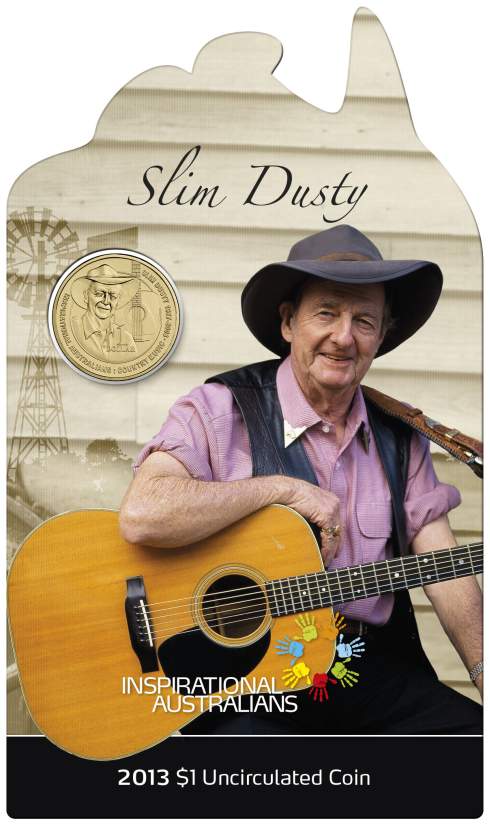 Slim Dusty Coin in Card(image courtesy www.ramint.gov.au)
Posted by harrisk at July 9, 2013 9:22 AM
Subscribe to our Newsletter