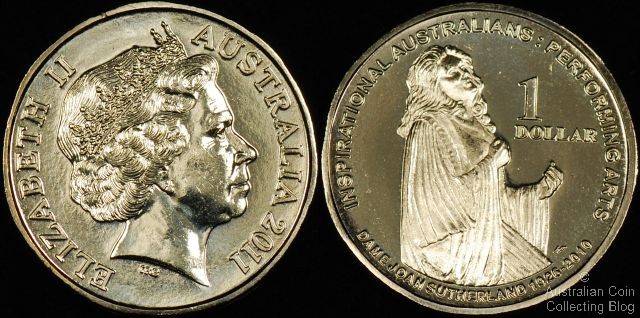 2011 Dame Joan Sutherland $1
Dame Joan Sutherland graced the opera stage in a career spanning over 40 years. The outstanding soprano was born in 1926 and passed away October 10th 2010. Her life and melody is celebrated with this non-circulating legal tender one dollar coin commemorating her achievements in the Inspirational Australians series released by the Royal Australian Mint. This Inspirational Australians series has seen a coin released in 2010 for Fred Hollows, 2009 Steve Irwin and 2008 Saint Mary MacKillop. These 25mm aluminium bronze one dollar coins are collector coins only but are the same as their circulating cousins in all specifications.

The Dame Joan Sutherland reverse is sculpted by RAM designer Wojciech Pietranik, his WP initials can be seen on the design. It depicts Dame Joan in full operatic performance as she is such well known for and fondly remembered. The legends reads "Inspirational Australians: Performing Arts Dame Joan Sutherland 1926-2010 1 Dollar". The obverse features Queen Elizabeth II depicted by Ian Rank-Broadley. Released July 1st 2011, find the mintage in the 2011 mintages table.
Posted by harrisk at June 27, 2011 2:59 PM
Subscribe to our Newsletter