The coloured Animals of the Zoo series was released in 2012 and comprises of 6 Australian legal tender 1 dollar coins in pad printed colour. The series commemorating the 150th birthday of the Melbourne Zoo. The Royal Melbourne Zoological Gardens as it is correctly named is located in Parkville just 4 kilometres from the city centre and is Australia's oldest Zoo opened in 1862 and modelled on the London Zoo. It exhibits over 300 species of animals and attracted almost 1.2 million visitors in it's 150th year. The Melbourne Zoo is the matriarch of a family of 3 Victorian Zoos which include Werribee Open Range Zoo and the Healesville Sanctuary
Each $1 coin is released in a colourful collector card by Australia's circulating coin producer the Royal Australian Mint but these coins are not intended to circulate. They are however issued for the collector market as NCLT (non-circulating legal tender) and appeal not just to coin collectors but animal enthusiasts and kids. Each coin has the standard specifications of a circulating one dollar - weight 9 grams, diameter 25 millimetres, composition aluminium bronze and have interrupted edge milling. Each coin features the obverse of Queen Elizabeth II by Ian Rank-Broadley.
The Gorilla, Elephant, Southern Corroboree Frog, Sumatran Tiger, Goodfellow's Tree-Kangaroo and Orang-utan coins all depict a pad printed colour reverse with a frosted uncirculated finish. Much more care is taken in the production process for a collector coin like this than a coin you will find in circulation. There is in fact a design struck onto the coin and the colour overlaid in a second process. Each reverse coin design was sculpted by Mint designer Aaron Baggio.
The Sumatran Tiger dollar can also be found in a PNC (philatelic numismatic cover) issued by Australia Post for $15.95. Each coloured dollar card was issued for $15. There are many many Australian dollar coins to collect both in your change and collector coins.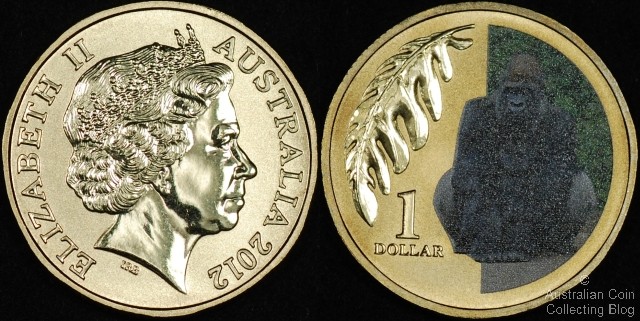 2012 Coloured Western Lowland Gorilla $1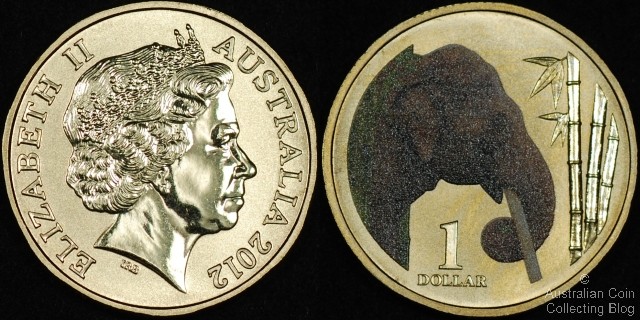 2012 Coloured Asian Elephant $1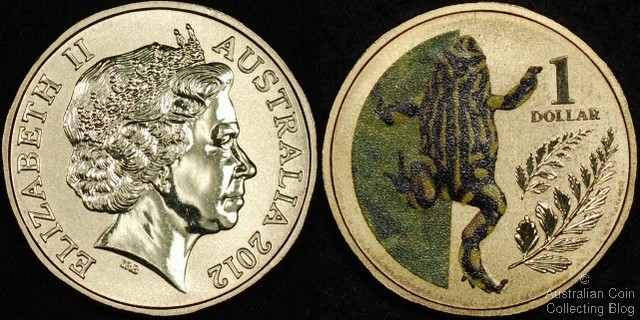 2012 Coloured Southern Corroboree Frog $1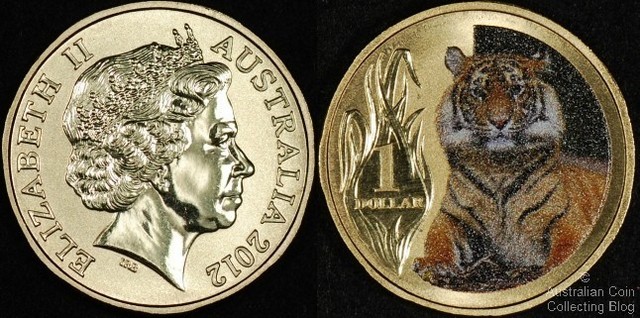 2012 Coloured Sumatran Tiger $1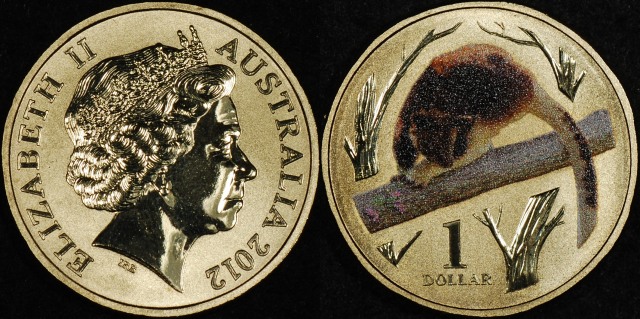 2012 Goodfellow's Tree-Kangaroo $1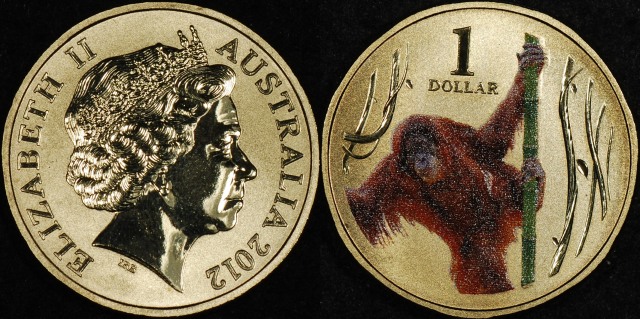 2012 Sumatran Orang-utan $1
Posted by harrisk at August 18, 2013 5:21 PM
Subscribe to our Newsletter