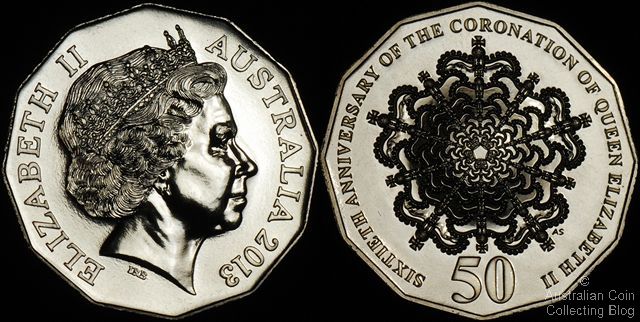 Queen's Coronation 50 Cent -the 60th Anniversary
Whether you're a monarchist or a republican, you can't have missed celebrations for the Diamond Jubilee of Queen Elizabeth II - the 60th Anniversary of a young newly married 25 year old princess, ascending to the throne after the death of her father, King George VI on 6 February 1952. It took over a year for Princess Elizabeth to be crowned Queen on 2 June 1953. British tradition dictated the coronation be delayed as it was considered inappropriate to celebrate the crowning of a new monarch within the mourning period for King George VI. This 50 cent celebrates her 60 years as the crowned monarch.
60 years - a Diamond Jubilee. What an achievement to have been doing the same work for 6 decades! To mark this auspicious occasion, the Royal Australian Mint has released a dodecagonal 50c coin design available in uncirculated and proof finish for the collector market (not for circulation).
At the time of her crowning, Queen Elizabeth II reigned over 16 sovereign states, 12 of which were British colonies (also called Dominions). The only other monarch to have celebrated a Diamond Jubilee is Queen Victoria in 1897. Another achievement is that Queen Elizabeth II is the oldest monarch to have celebrated a Golden Jubilee with James I (James VI of Scotland) being the youngest aged 51. For this occasion back in 2003 the Mint issued a golden aluminium bronze 50 cent.
During the Jubilee celebrations, the Queen and her husband Prince Philip, Duke of Edinburgh, remained within the United Kingdom, mainly due to the Prince's ill-health. So the task of traveling around the Commonwealth of Nations was handed over to other members of the Royal Family. The Queen's eldest son and heir to the throne, Charles the Prince of Wales and his wife Camilla, the Duchess of Cornwall visited Canada, Papua New Guinea, New Zealand and Australia. Her youngest son, Prince Edward the Earl of Wessex and his wife Sophie, the Countess of Wessex visited Saint Lucia, Barbados, Saint Vincent and the Grenadines, Antigua and Barbuda, Grenada, and Saint Kitts and Nevis. Her grandsons Prince William and Prince Harry also did their bit - Prince William, the Duke of Cambridge and his wife Catherine, the Duchess of Cambridge visited the Solomon Islands and Tuvalu; whilst Prince Harry visited the Bahamas, Belize, and Jamaica. It was also in the Queen's 60th year that it was prematurely revealed that Prince William and new wife Kate were expecting the next heir and the Queen's Great Grandchild Prince George, also the subject of another 50 cent.
The organizational infrastructure surrounding the Diamond Jubilee was immense - it is estimated to have cost more than ₤1.3 billion in Britain alone ... with activities ranging from an equestrian pageant with 500 horses flown in from around the world, through to flying in performers from 16 countries. Then there was the centrepiece event of the Thames River Pageant where flotilla's of ships were presented to the Queen, through to a concert staged outside Buckingham Palace, even a 5 day Bank Holiday week bestowed to the British public, and many more side events too numerous to mention.
The Queen also sent during her Diamond Jubilee celebrations over 540,000 telegrams to United Kingdom and Commonwealth couples who were celebrating diamond wedding anniversaries (60 years of marriage) themselves.
Not to be confused this 50 cent celebrates 60 years since Queen Elizabeth II was crowned at the Coronation ceremony in 1953. Her Majesty ascended the throne in 1952 and 60 years as Queen the diamond jubilee was also celebrated with two 2012 dated 50c coins, one by Michael Meszaros featuring a diamond and a sprig of wattle and a coin featuring fireworks and a single St Edwards Crown. Numerous coins and medals from other Commonwealth countries were also minted for this milestone.
This 2013 50c Coronation 60th Anniversary coin, with a depiction of 60 Coronation (St Edwards) crowns was design by the Royal Australian Mints Aleksandra Stokic. The obverse mature portrait of Queen Elizabeth II is designed by Ian Rank-Broadley, It is released in silver proof, also in uncirculated copper-nickel in a collector card and in a prestige stamp and coin booklet.
Posted by harrisk at November 27, 2013 1:09 PM
Subscribe to our Newsletter