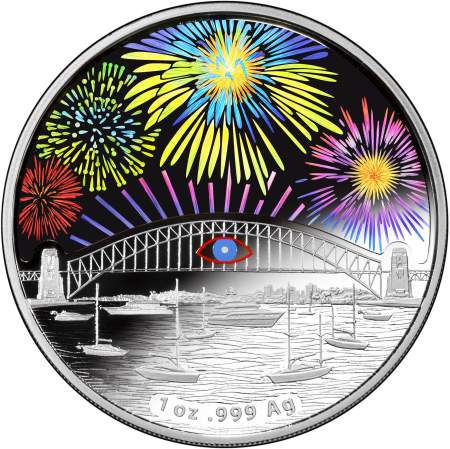 Sydney New Years Eve 2013 Fireworks 1oz Silver Hologram Proof Coin (dated 2014) (image courtesy www.ramint.gov.au)
It's that time of year again when we're visiting friends and family, giving and receiving presents, deciding on a hot or cold "Aussie" Christmas lunch, cricket on the beach or in the backyard .... all leading up to the most spectacular event of the year, NYE13 or more commonly known as the 2013-2014 Sydney Harbour New Year's Eve Fireworks Display.
No doubt, at some time or other, you'll have been one of the 1 billion plus people who've watched either the 9pm or midnight Fireworks display on television, and there's probably many of you who've been really fortunate to have been one of the 1.6 million (with that number growing each year) who've actually been in Sydney, crammed around the Sydney Harbour Foreshore, "oo-ing" and "aw-ing" at the pyrotechnical mastery that gets better and better every year.
It's an event that every Australian should have on their wish list, if only to see how such a large scale event is put together. It's estimated that there's about 70 tonnes of fireworks, with 60 tonnes being on the Sydney Harbour Bridge alone. 70 tonnes of fireworks - that's 11,000 shells, 25,000 shooting comets and 100,000 individual pyrotechnic effects; launched from harbour barges, the Sydney Harbour Bridge and 7 buildings, the tallest being the Govenor Phillip Tower at 227 metres. The "Embrace" theme of NYE12 is reputed to have cost more than $6 million!
Wouldn't it be great if you could take away some of that Fireworks magic? Yes, you could search online and watch a video, or perhaps you might have a photo or two, but wouldn't it be great to be able to capture this brilliant Firework display in a more unique way?
Well now you can. In an Australian first, and kicking off a 10 year series, The Royal Australian Mint and The City of Sydney have joined forces to release a very special memorabilia item to mark the occasion - a ground-breaking, colourful and special edition $1 holographic 1 oz silver proof collector coin, designed by the Royal Australian Mint artist Aaron Baggio depicting "bursts of light" appearing over the Sydney Harbour Bridge with the obverse portrait of Queen Elizabeth II designed by Ian Rank-Broadley and dated 2014. And as an added bonus, the coin will also portray the special symbol that is revealed on the Sydney Harbour Bridge during the Fireworks display. With the scaffolding and outline of the symbol usually visible during construction, Sydneysiders are invariably trying to guess "what will it be", right up to the last minute.
Each year, the Sydney New Year's Eve Fireworks display symbol changes - and it's always tied into that year's Firework's theme. The very first "Smiley Face" symbol was displayed during the New Year Eve's celebrations of 1997 and it's become a tradition ever since.
Other notable symbols have been:
• the "Rainbow Serpent" during the New Year Eve's celebrations of the 2000 Centenary of Federation
• the "Dove of Peace" and the word "PEACE" in the 2002 Celebration in Unity Fireworks display
• the "Coathanger" of the 2006 "A Diamond Night in Emerald City" celebrations
• and in the NYE12 fireworks display, the Creative Ambassador Kylie Minogue's Embrace theme, depicting the "Butterfly" and bright red "Lips"
The Creative Ambassador for NYE13 is Sydney resident artist and musician Reg Mombassa, has created "the all-seeing eye", the official logo for the 2013-2014 Sydney Harbour New Year's Eve theme "Shine". A range of artwork has also been commissioned for NYE13, which has been incorporated into the packaging which houses the special edition 40.7 millimetre $1 holographic silver proof collector coin, in it's own leatherette presentation case.
Retailing at $120 with no more than 15,000 coins to be minted, pre-orders began on 2nd December 2013, with dispatching date being after 6th January 2014. The official release date for the NYE13 special edition $1 holographic colour printed silver proof collector coin, complete with the "Shine" symbol, will be 1st January 2014.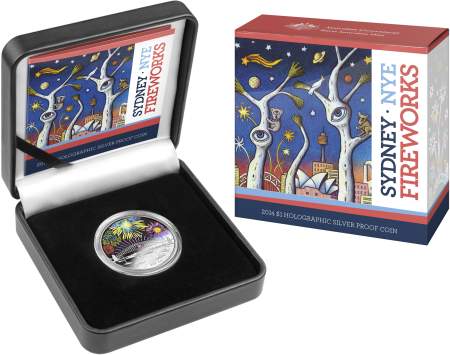 Sydney New years Eve Fireworks 1oz Silver Hologram Boxed Proof (image courtesy www.ramint.gov.au)
Product code: 210313
Posted by harrisk at December 26, 2013 10:17 AM
Subscribe to our Newsletter