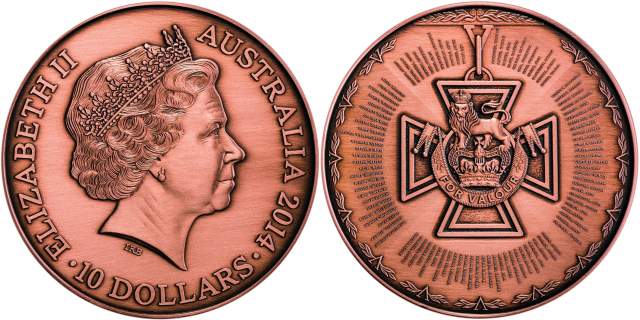 2014 Victoria Cross Ballot Coin (image courtesy www.ramint.gov.au)
The Royal Australian Mint is releasing a new $10 coin commemorating our nations bravest, the recipients of the Victoria Cross Medal as part of their Anzac Centenary Coin Program. This particular ten dollar coin is limited to just 5,000 minted so to secure one of these coins you'll have to enter a ballot draw. From now until 5pm aest on May 30th those interested in securing one of these coins will have to enter the draw via a link on the RAM website, calling the RAM contact centre or sending in a Legends member form. Upon validation of your entry and if successful in the ballot you'll be notified and asked to make payment.
The antique copper coin measures 57 millimeters and is issued in a presentation box for $100. All ballot winners will be required to pay the $12 shipping fee as there is no pickup available from the RAM giftshop.
The first coin* in the Mint's Anzac Centenary Coin Program sold out within days, the $5 triangular Lest We Forget silver proof coin and that coin had double the mintage. This VC coin will surely be very very popular.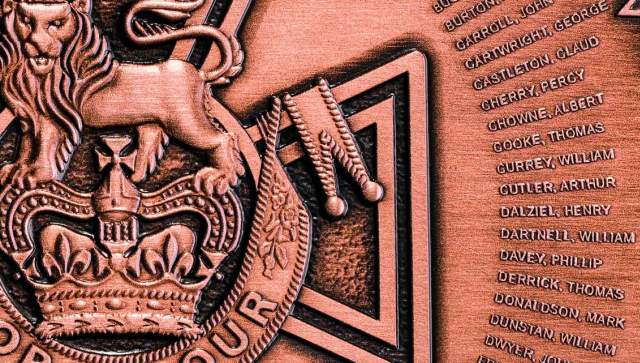 Victoria Cross Recipients on the Coins Reverse (image courtesy www.ramint.gov.au)
The names of the 100 Victoria Cross medal recipients adorn the reverse of this coin in micro-text around a depiction of the VC Medal with the words " FOR VALOUR" . A superb design commemorating our nations bravest who received the highest military honour.
Australia's 4 living Victoria Cross recipients were on hand at the Mint in Canberra yesterday to oversee the striking of these coins with Corporal Mark Donaldson VC's 7 year old daughter Kaylee pressing the button to mint a coin for her Dad.
The ANZAC Day University of Canberra Brumbies Rugby Match also put aside the coin toss at the start of the game, and as a mark of respect and commemoration instead playing a quick game of two-up with the specially struck coins.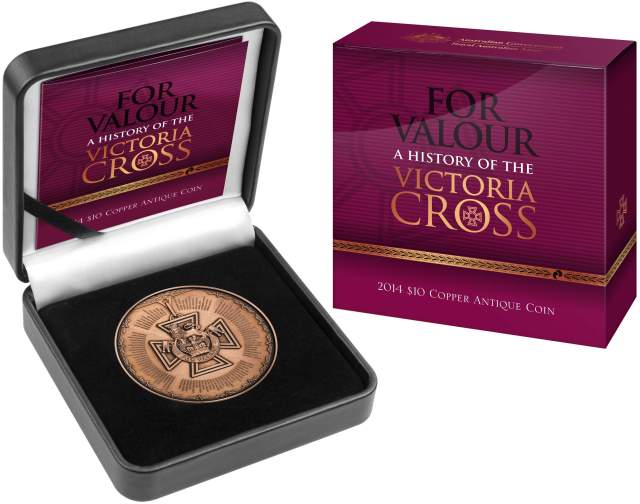 2014 VC $10 Copper Antique Coin (image courtesy www.ramint.gov.au)
*The first coin announced was the circulation ANZAC centenary dollar with 23 million released for circulation. It appears the Royal Australian Mint can't decide if that coin was in fact part of the program having announced conflicting information to date.
Posted by harrisk at April 27, 2014 2:09 PM
Subscribe to our Newsletter