An exhibition currently on display at the Royal Australian Mint is "Striking Art: Lasting Impressions"- the works of in-house coin designer, artist and sculptor Wojciech Pietranik. For a limited time mint visitors get the chance to view a display of Wojciechs' work over his career spanning more than 20 years at the RAM. This display is well worth a visit and will be shown until February 14th 2010.
In a rare opportunity for collectors, numismatists and art guru's, Wojciech gave a talk at the Mint on Saturday 30th January about his inspirations and experiences in coin and medal design and working for the Royal Australian Mint.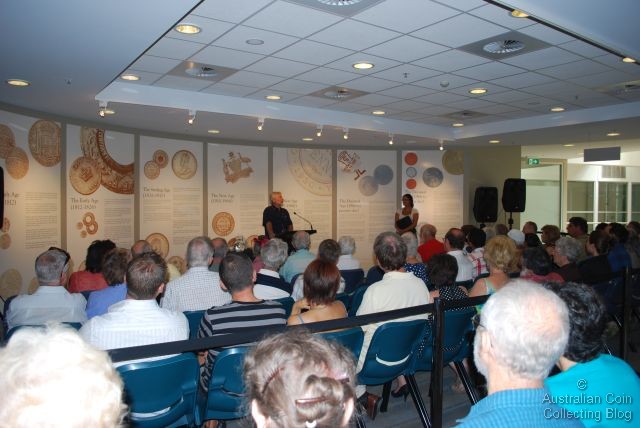 Striking Art Lasting impressions Speech by Wojciech Pietranik 30 Jan at the RAM
Wojciech Pietranik (pronounced Voy-check Pea-yet-traaa-nik) was born in 1950 and grew up in the coastal city of Gdansk, Poland. From the age of 20 he studied at the Academy of Fne Arts graduating with a Masters Degree in Sculpture.
He worked freelance between 1975 and 1985 and exhibited his work in Poland and internationally as his skills in sculpture and design grew. 1985 saw him migrate to Australia to teach in Darwin but the family moved on 3 years later to the cooler climate of Canberra.
At his wife's urging Wojciech took on a job at the Royal Australian Mint in 1989. Under the guiding hand of Senior Designer Horst Hahne, Wojciech developed his skills from artist and sculptor to coin engraver. This brought forward aspects of his degree in sculpture and allowed his artistic abilities to shine through the design of a coin or medal.
During his speech Wojciech likened coin artistry to "the bubble on a pancake", that is the design is simply on the surface of the coin. What he hopes to achieve in his own designs is depth and thought and meanings into every coin or medal; not simply just the bubble on the pancake. For every task he is given by his employer Wojciech takes stock and researches every facet of the theme. Before the age of Google he went to libraries and scoured books looking at history, heritage, studying events, Australian animals and culture. With this research in hand Wojciechs' designs depict events through pictures and not words. It's his own point of view leaping at you from the coin or medal.
Just as an example, one of Wojciech's proudest achievements is the Kangaroo at Sunset coin series. Inspiration for this particular coin design was taken from the drive home after work, with kangaroos by the side of the road casting long shadows from the low late afternoon sun .
Other examples of his designs include:
2010 Burke and Wills 20c & $1 coin
2009 Citizenship $1 coin
2008 Quarantine $1 coin
2007 Sydney Harbour bridge $5 coin
2005 World War 2 Remembrance 50c for general circulation
2005 Dancing Man $1 coin for general circulation
Just a small selection of his work outlined above, his designs are really too numerous to list. The RAM exhibition displays each coin design encapsulated and shown in frames hung on the walls from the ceiling. Wojciech mentioned one of the visitors had asked that his work be enlarged for ease of viewing in the displays -coins are so small. Of course this is not possible. The exhibition also includes some of Wojciechs' stone carving work
All of the latter coin issues show Wojciech's signature initials as his design mark on his coins. There were discussions at the RAM a few years ago as the designers wanted their individual designs recognised (at the time they were only sporadically allowed to do so). The designers won the argument and those initials are now included on most Australian coin designs.
Often he considers himself "the rebellious type" as he tries to bring his artistic ideas and background in sculpture to his coin designs. When given a design task Wojciech will take all considerations on board but the artistic merits and values he brings to his coin design take precedence. He will fight for the features of his designs even if they aren't in the "design specs". That's the artist in the man.
In the leadup to the 2000 Olympics Wojciech worked on medal projects outside of the Royal Australian Mint. He produced these designs, not from paper sketches but by etching straight into plaster in the shed at his home. "It was a big big pleasure to be involved in these projects". His designs were chosen and appear on the gold, silver and bronze medals awarded to athletes.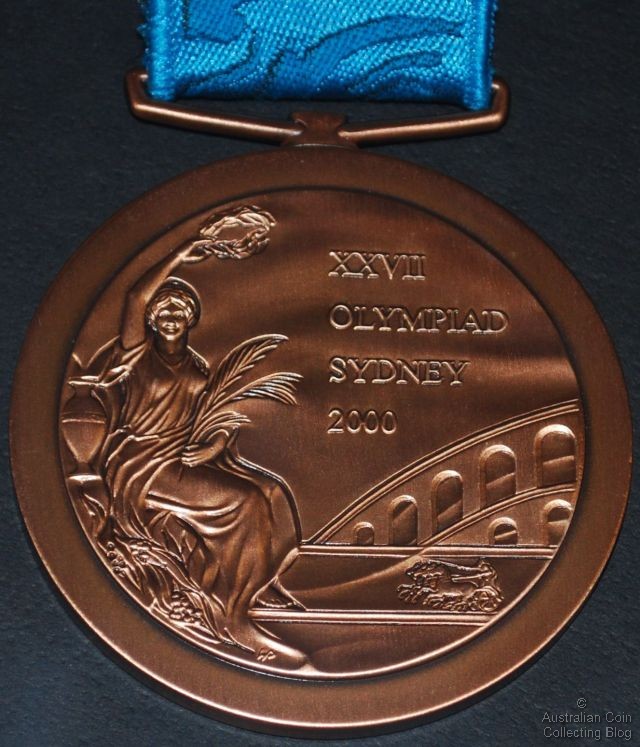 Medal design for 2000 Olympics
Wojciech wants his coin and medal designs to be works of art in pictures and he's so very proud of his achievements. His designs will certainly leave "lasting impressions" in the history of coin design in Australia. Whilst not a retirement speech Wojciech would like to continue in the future to sculpt in stone, as he has made magnificent pieces in the past.
On a personal note it was a huge pleasure to be invited to the RAM to attend this event. I gained a lot out of Wojciech's speech and individual discussions he had with myself and others who asked questions. Thank you, Wojciech you were a pleasure to listen to.
Posted by harrisk at January 30, 2010 7:24 PM
Subscribe to our Newsletter