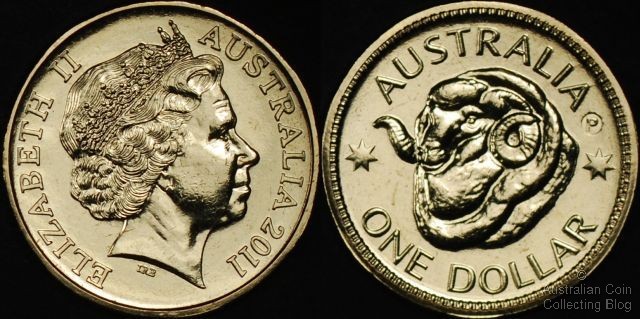 The P Counterstamp Shilling Ram Dollar
The 2011 Shilling Ram one dollar coin in aluminium bronze has recently been issued with a P counterstamp. This 25mm uncirculated coin was struck on the Royal Australian Mint mobile press exclusively at the Perth ANDA coin show in Western Australia on Saturday 5th and Sunday 6th February 2011.
This rams head reverse design coin is the same Uardry 0.1 by George Kruger Gray last seen on pre-decimal shillings 1938-1963. It is the one dollar mintmark coin for 2011 and has been issued with a C mintmark at the gallery presses at the RAM and also with S, B and M privymarks in a 4 coin set so far this year and in silver proof. There will be more releases of this design as the year progresses. If you're unsure what the differences are between mintmarks, counterstamps and privy marks then catch-up here.
The P was stamped onto coins pre-struck with the design at the coin show on the mobile coin press. Attendees to the show could buy pre-stamped coins from the mobile press or wait in the queue to press the button to strike the counterstamp on their own coin. Dealers attending the show were given an allocation. Cost was $10 per coin with a mintage of 5,100 coins. There are 3 known varieties of this P counterstamp issue.
Posted by harrisk at February 12, 2011 3:19 PM
Subscribe to our Newsletter