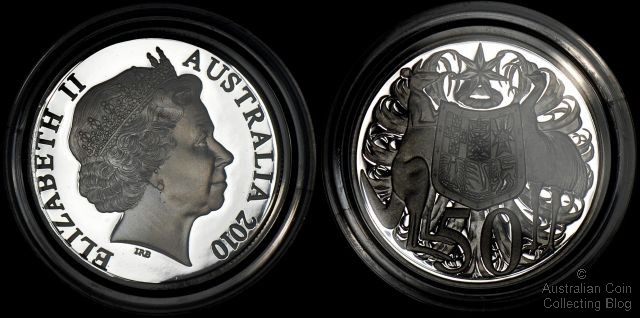 Australia 2010 50c Proof - 80% Silver Mintage: 400
In the image above you can see what is the rarest circulation composition Australian 50c available to collectors. Struck in the same 80% silver/20% copper alloy as the original and iconic 1966 Round 50c this proof quality coin has a tiny mintage of just 400 pieces. It was part of the 1966 Decimal Heritage Set that was released by the RAM in 2010.
This is the second time that the round 50c has been struck since 1966, with another 80% silver proof striking available to collectors in the 2006 Australian proof sets. But the 2006 coin has a much larger mintage of 45,373. Like the 2006 coin, this scarce 2010 issue shows the modern Ian Rank-Broadley portrait of HM Queen Elizabeth II rather than the Arnold Machin portrait of 1966. The reverse design, an interpretation of the Australian Coat of Arms on a sea of Mitchell grass is the same as that used on the 1966 coin which was designed by Stuart Devlin.
Right now the only way for a collector to get their hands on one of these coins is if they either own one of the 1966 Decimal Heritage Sets or if someone breaks up one of the sets and puts the coins up for sale individually. We believe that this will certainly happen, it's just a matter of time.
Posted by mnemtsas at February 1, 2011 6:26 PM
Subscribe to our Newsletter