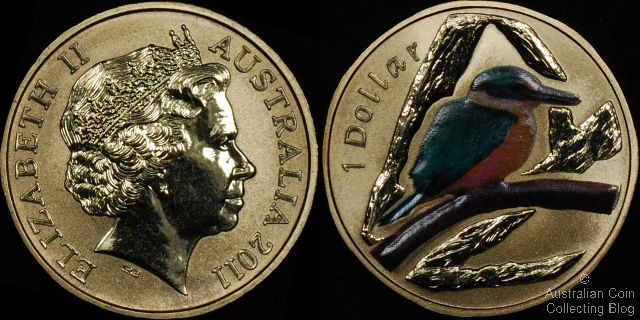 2011 Air Series Sacred Kingfisher $1
The Sacred Kingfisher is featured on this pad printed 2011 Australian one dollar coin released July 1st. It is the fourth coin in the Air series in the second release by the Royal Australian Mint along with the Major Mitchell cockatoo. Earlier this year we saw the Rosella and Kookaburra issues. The Air series follows the very popular Ocean Series and Land Series also released by the RAM.
The coloured Kingfisher coin is the standard one dollar 25mm size and weighs 9 grams, just the same as circulation dollars however this issue has been struck for the collector market (termed NCLT) and these coins are not intended for circulation. Made from an aluminium bronze planchet these legal tender coins are struck with the standard Ian Rank-Broadley obverse design, the depth of the reverse design and interrupted edge reeding. The colour is then pad printed onto the reverse showing off the vibrant colours of this bird. Issued at $14.95 in an informative colourful card this release is sure to be popular with children and bird lovers. The mintage can be found in the 2011 mintages table. See the other issues in the Air Series.
Posted by harrisk at June 20, 2011 11:05 AM
Subscribe to our Newsletter