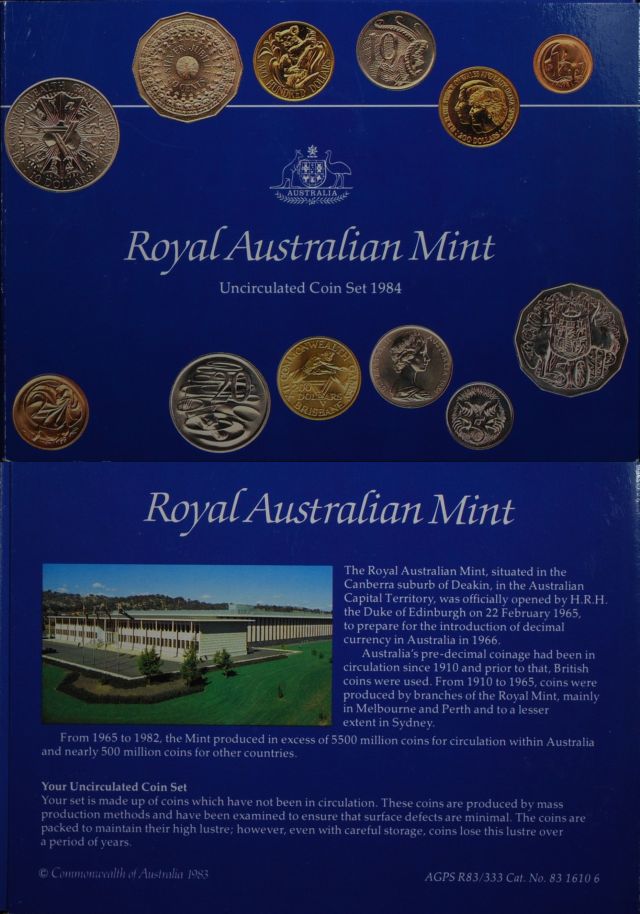 1984 Mint Set front and back cover
The 1984 mint set is an uncirculated year set of circulating currency for 1984. It was produced before the release of the one dollar coin so this is not included in the set. 1984 was the first year of the "bubble pack" or "blister pack" sets where the coins are all sealed securely in HDPE moulding and are well protected with a cardboard folder and outer sleeve.
It features all standard issue coins, the coat of arms dodecagonal 50c, platypus 20c, lyrebird 10c, echidna 5c, frilled lizard 2c and feather-tailed glider 1c all designed by Stuart Devlin and are all of standard circulation size, weight and composition. The obverse of all the coins feature the effigy of Queen Elizabeth II by Arnold Machin. This was the last year of this effigy before it was changed to the Raphael Maklouf design.
The packaging examines the animals on the coins in delightful detail explaining the frill-necked lizard's menacing frill, the skill of the swimming platypus and the dancing lyrebird with it's magnificent tail. The back of the folder explains the history of the Royal Australian Mint.
These sets were issued for $3.20 with some sets issued with a yellow plastic holding the coins. The yellowed sets catalogue at just over half the value of the clear sets but can all be picked up for well under todays catalogue value of $60 clear and $35 yellow (2011). Mintage 150,014.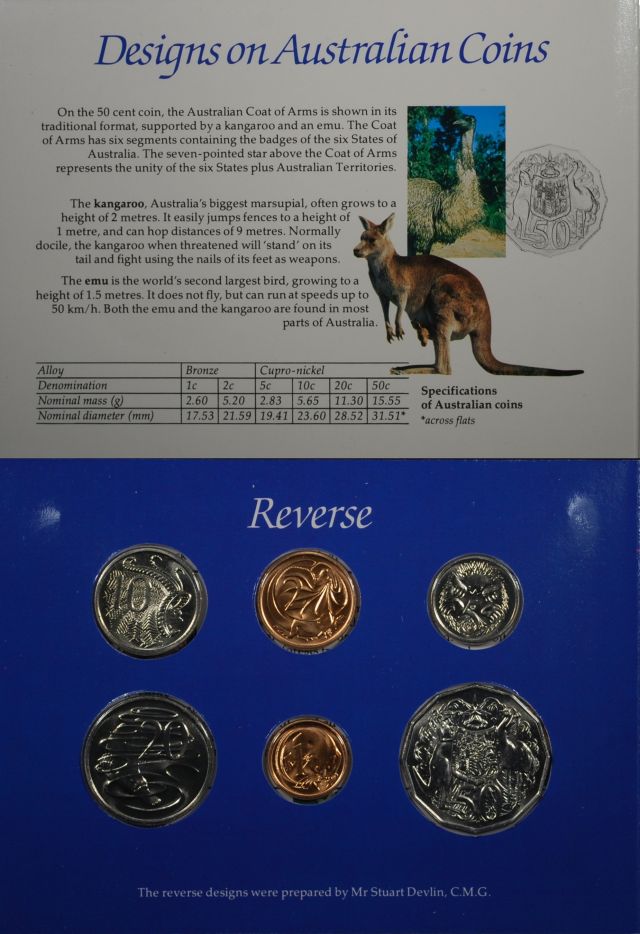 1984 Mint Set inside
Posted by harrisk at August 5, 2011 12:25 PM
Subscribe to our Newsletter