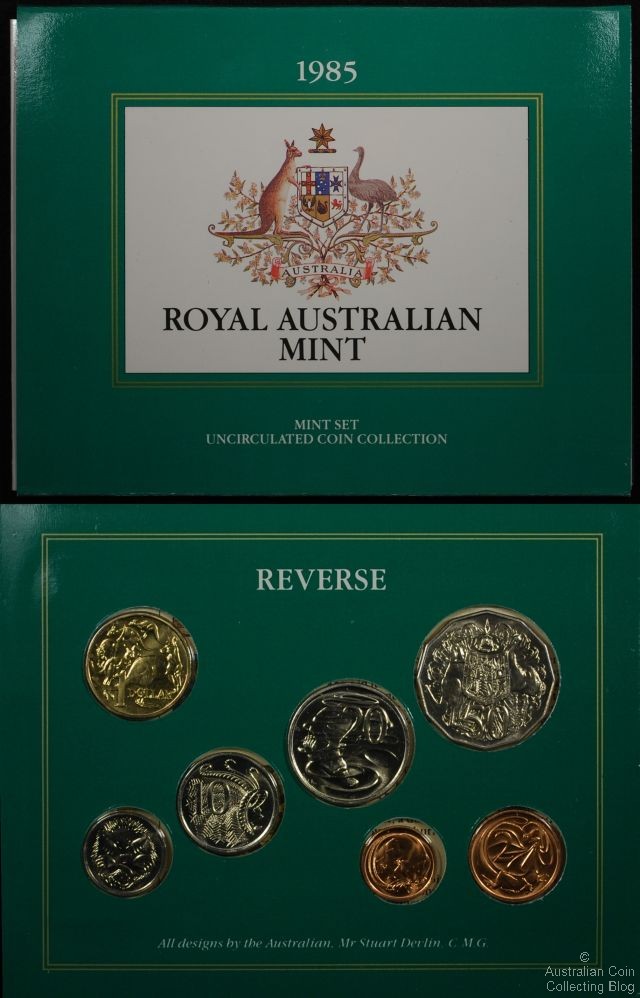 1985 Mint Set
The 1985 mint set was issued by the Royal Australian Mint and features an uncirculated set of Australian coinage for that year. It is the first mint set to feature the mob of roos one dollar coin first struck in 1984. It is also the first year of a new portrait of Queen Elizabeth II. The Raphael Maklouf designed effigy features on the obverse of all the coins and depicts QEII wearing the Diamond Diadem (small crown) with 1,333 diamonds, part of the British Crown Jewels. The packaging of this mint set explains the reverse designs on all the coins, all the standard designs by scultpor and Jeweller to the Queen Stuart Devlin.
Coins included in this set are the standard mob of roos $1, coat of arms dodecagonal 50c, platypus 20c, lyrebird 10c, echidna 5c, frilled lizard 2c and feather-tailed glider 1c. They are all standard circulation size, weight and composition. Interestingly the 5c was not issued into circulation in 1985 so a mint set might be the only way to obtain one.
Packaged in a folded card with the coins sealed securely in HDPE moulding they are well protected with an outer cardboard sleeve. This type of packaging is often called bubblepack or blister packaging. Originally these sets were issued for $4.20 and catalogue (2011) at $45 they can be picked up for well under cv. Mintage of 170,000. There was a number of sets issued with a yellowed plastic housing the coins. These were issued for $3.20 and have a much lower cv of $25 (2011). This type of packaging was first used in the 1985 and 1984 mint sets and the yellowed plastic considered a teething problem with the new materials.
For other Mint Set issues see the master list The Australian Mint Set - Royal Australian Mint Uncirculated Year Set Issues.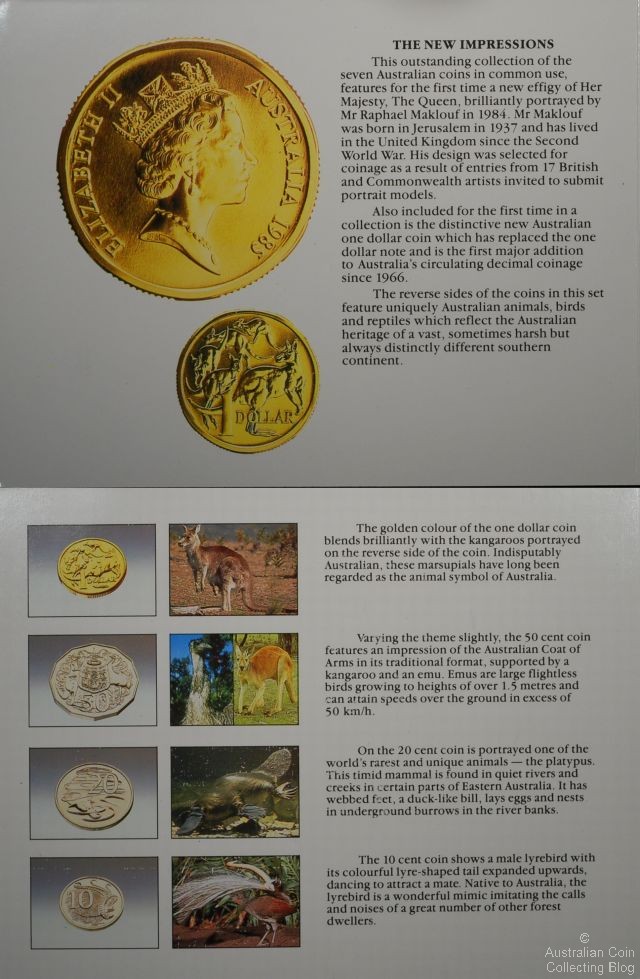 1985 Mint Set
Posted by harrisk at August 4, 2011 3:13 PM
Subscribe to our Newsletter