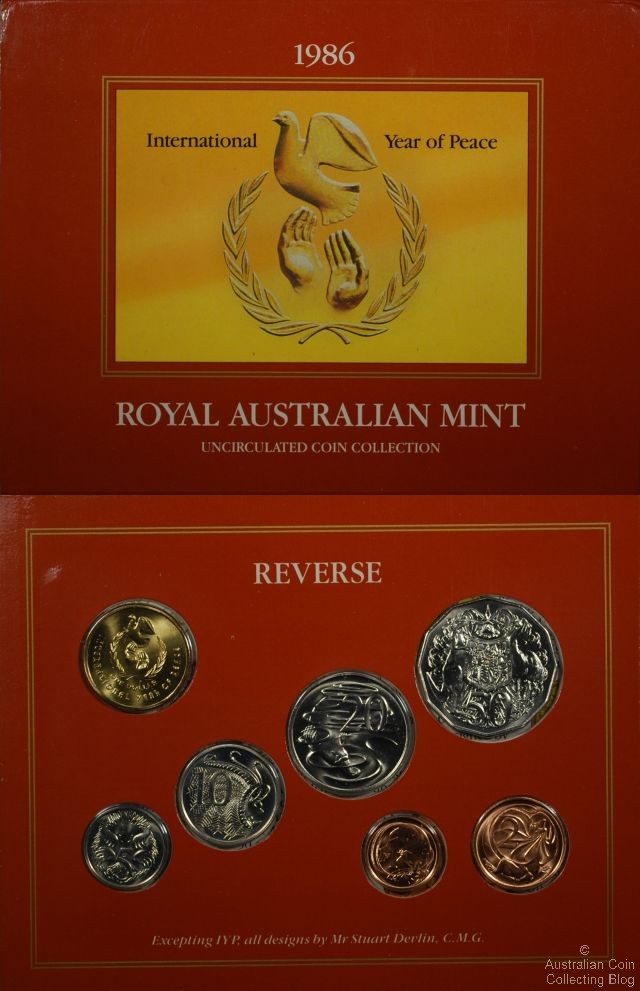 1986 Mint Set
The 1986 mint set was issued by the Royal Australian Mint and features uncirculated issues of 1986 Australian coinage. The theme for this set is the commemoration of the International Year of Peace and the 20th anniversary of decimal coinage. There was no mob or roos one dollar coin minted in 1986, instead a commemorative one dollar (Australia's first) was released featuring the symbol for IYP, the peace dove, hands and a wreath engraved by Horst Hahne. This coin is included in this set. This mint set includes the standard coat of arms dodecagonal 50c, platypus 20c, lyrebird 10c, echidna 5c, frilled lizard 2c and feather-tailed glider 1c all designed by Stuart Devlin and are of standard circulation size, weight and composition. The obverse of all of the coins included in this set is the Raphael Maklouf portrait of Her Majesty Queen Elizabeth II. Interestingly all of the coins included in this set except the $1 were not actually issued into circulation so picking up a mint set might be the only way to get these coins.
The packaging of this mint set takes us through the process of producing the Peace $1 from a drawing to a plaster model, rubber mould and resin replica before the creation of a master die. From this master die, hundreds of working dies were produced and chromium plated to increase their wear resistance. The working dies then produce these circulation coins. The packaging also takes us through the history of decimal currency. From it's adoption in 1966 (20 years prior to the release of this set) and the phasing out of the old shillings and pence system. It talks of the 1966 round 50c, the last time Australia will see precious metal in a circulating coin and the introduction of the one dollar coin in 1984 and a new effigy of Queen Elizabeth II in 1985.
Packaged in a folded card with the coins sealed securely in HDPE moulding they are well protected with an outer cardboard sleeve. Originally these were issued for $4.50 and catalogue (2011) at $26 they can be picked up for well under cv. Mintage of 180,000.
Error sets have emerged with the set including a 10c coin dated 1985 (instead of 1986). Be careful of tampered packaging if paying a premium for one of these error sets.
For other Mint Set issues see the master list The Australian Mint Set - Royal Australian Mint Uncirculated Year Set Issues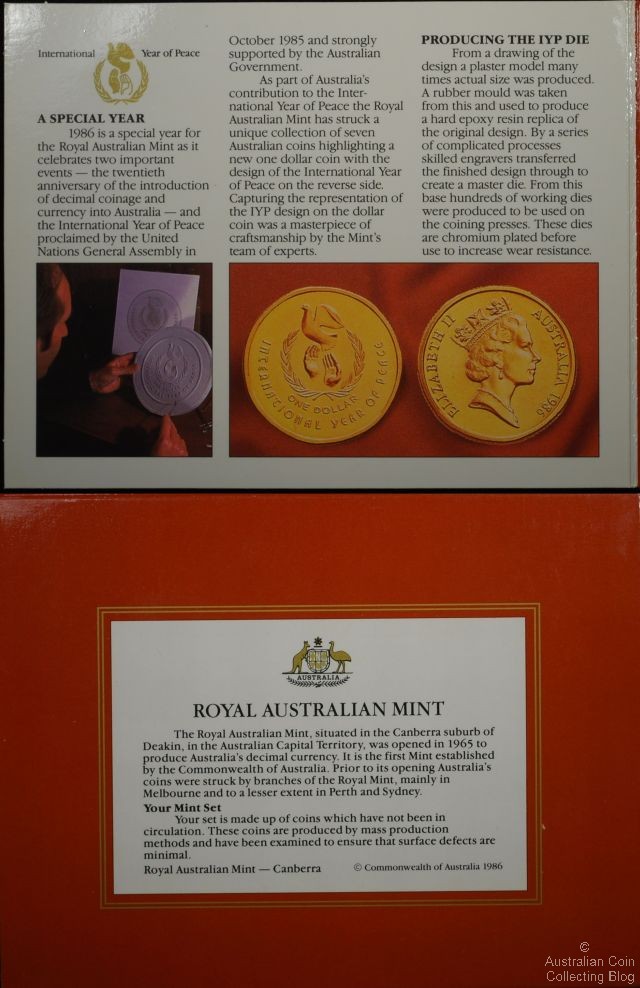 1986 Mint Set
Posted by harrisk at August 4, 2011 1:59 PM
Subscribe to our Newsletter