Your Australian paper $2 note value will depend on 3 things -signatures, serial number and condition.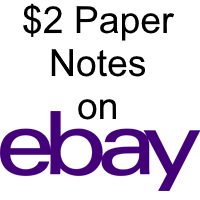 There are 8 signature combinations of the Governor of the Reserve Bank of Australia and the Secretary to the Treasurer.
Coombs/Wilson 1966
Coombs/Randall 1967
Phillips/Randall 1968
Phillips/Wheeler 1972, 1974
Knight/Wheeler 1976
Knight/Stone 1979
Johnston/Stone 1983
Johnston/Fraser 1985
Serial numbers tell us more about your $2 note value depending on the prefix of the number. Serial numbers can be split into 3 categories, first issued or first prefix, last issued or last prefix and general prefix those notes in the middle of that production run.
Special paper $2 notes to look out for are those with a star or asterisk at the end of the serial number. These are star replacement notes and they replaced a note in a bundle that was damaged or soiled. These starnotes have a serial number prifix always beginning with Z. These paper banknotes have a value far in excess of their two dollar face value and are very collectable in any condition. Error paper banknotes can also be worth more depending on the error. These should be assessed on the individual error. Types of error banknotes include missing colour print, extra paper flaps and even mismatched serial number. Special issue specimen notes can be identified as being overprinted or stamped with the watermark "specimen" and are highly valuable.
Identifying the Australian paper two dollar note is easy. The front of the note features the Australian wool industry pioneer John Macarthur and a Merino ram. The back of the note features the father of the wheat industry William James Farrer with ears of wheat. The note is green, yellow and black and has "AUSTRALIA" or "COMMONWEALTH OF AUSTRALIA" written on both sides of the note depending on the era it was issued. The latter was written on the earlier issues and it was shortened in notes issued from 1974. The serial number and signatories are shown on the sheep side.
The $2 note was issued on 14th February 1966 and last officially issued on 17th June 1988 after a total of 1,634,578,903 notes had been issued. At this time Australia minted it's first $2 coin.
Notes at time of writing (October 2014): Now you can identify your Australian paper $2 note, what's it's value you may ask? We could quote you catalogue values but that's doesn't give us a great idea of actual value as the Australian banknote market is quite flat right now. Armed with the knowledge of the catalogue value and having identified what note you have, then take a look at sales history such as notes sold in public coin and banknote auctions and sites such as eBay for a real value you might achieve for your note if you sell it.